African American Hero of the Day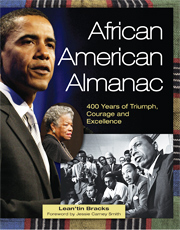 ---
What musician and singer was portrayed by Jamie Foxx in a 2004 biopic?
Glaucoma at the age of six led to a lifetime of blindness for him.
His first song to hit the top of the charts was "Baby, Let Me Hold Your Hand."
He was inducted into the Rock 'n' Roll Hall of Fame in 1986.
He died of cancer in 2004.
---
---

Ray Charles (1932-2004)
Singer, Pianist, Bandleader
Ray Charles was born Ray Charles Robinson on September 27, 1930, in Albany, Georgia. Blinded at the age of six by glaucoma, Charles received his first musical training at a school for the blind in St. Augustine, Florida. He left school at the age of fifteen to play local engagements. Within two years after the death of his parents he formed a trio that had some success in the Northwest. Influenced by smooth pop and rock styles Charles got his first rhythm and blues chart topper with "Baby, Let Me Hold Your Hand," followed by "I Got a Woman," released in 1955. Charles's songs at this time began to include the groans and shouts reflective of his gospel musical arrangements.
In 1957 his first album was released, consisting of a potpourri of instrumentals drawn from pop, gospel, and modern jazz sources. His singing and piano playing found favor particularly with a number of jazz artists who opposed what they felt was a growing tendency for jazz to become over-scored and under-felt. In Charles they saw an artist who had restored both a sense of "soul" and instrumental "funkiness" to the jazz idiom.
Charles had a string of hits through the 1960s such as "Hit the Road" and "I Can't Stop Loving You". He was so influential that he was inducted into the Rock and Roll Hall of Fame in 1986, received the National Medal of the Arts in 1993, was awarded more than ten Grammys, and received numerous degrees and other honors. Actively involved with a film about his life starring Jamie Foxx, Charles took time to train, encourage, and challenge Foxx musically. Charles who had been battling cancer died on June 10, 2004, after giving Foxx his blessings for the film. The film opened on June 10, 2004, and Foxx won an Academy Award as best actor for his performance in 2005.
From African American Almanac: 400 Years of Triumph, Courage and Excellence by Lean'tin Bracks, (c) 2012 Visible Ink Press(R). A wealth of milestones, inspiration, and challenges met . . .
Dig deeper with these related titles:
African American Almanac: 400 Years of Triumph, Courage and Excellence


A wealth of milestones, inspiration, and challenges met. . . The most complete and affordable single-volume reference of African... Read More »

Freedom Facts and Firsts: 400 Years of the African American Civil Rights Experience


Spanning nearly 400 years from the early abolitionists to the present, this guide book profiles more than 400 people, places, and events that have... Read More »

Black Firsts: 4,000 Ground-Breaking and Pioneering Events, 2nd Edition


Black Firsts is a testament to a rich but often overlooked part of our history. Jessie Carney Smith, William and Camille Cosby Professor of the... Read More »

Black Heroes


"If there is no struggle, there is no progress," wrote Frederick Douglass. "This struggle may be a moral one; or it may be a physical one; or it may... Read More »
---