Black Firsts: 500 Years of Trailblazing Achievements and Ground-Breaking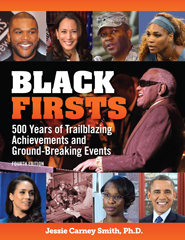 A valuable resource for young adult students and library reference desks, Smith's exacting overview of Black achievement will answer classroom questions and pique curiosity about innovators …

Booklist
For the fourth edition of this work (last updated in 2013), Smith (librarian emerita, Fisk Univ.) includes additions and updates to some of the thousands of entries, which range in length from a paragraph (Dave Chappelle) to a column (Madame C.J. Walker) and occasionally longer. Entries are arranged chronologically in broad professional categories (science and medicine; arts and entertainment), with photos and boxed text interspersed. Occasional tables on topics such as Black pioneers of higher education convey material succinctly. Sources appear at the end of each entry, with further reading found at the book's conclusion. VERDICT A wide-ranging overview that will result in hours of browsing and serve as a strong jumping-off point for research projects or deeper study.

Library Journal
Trailblazing tales: Chronicling Black pioneers over 30 years … "Black Firsts: 500 Years of Trailblazing Achievements and Ground-Breaking Events" is a proud celebration of Black success.

San Francisco Chronicle
"Black Firsts: 500 Years of Trailblazing Achievements and Ground-Breaking Events" … now in its fourth edition, was begun nearly 30 years ago. It remains dedicated to "the abounding success of our people who, despite the odds, continue to reach new heights." [Author Jessie Carney] Smith organizes her achievements first by field, then chronologically. People in government take up the most room, with more than 150 pages of entries. Athletes come next, with nearly 90.

Some of the most interesting people … are the least famous. Readers likely know about George Washington Carver and his work with peanuts. But how many know about the first Black American to receive a patent, Thomas L. Jennings? He devised a dry cleaning process back in 1821 …. Other black inventors gave America everything from golf tees to ironing boards. And some inventions saved lives. That metal fire escape bolted to apartment buildings? Credit J.R. Winters, who devised it back in 1878. The pacemaker? Thank Otis F. Boykin, who started working on the device in 1959.

Like the story of Black achievement in every field, it's a history of hard work and often incremental progress. … the struggle goes on, and Smith vows to keep chronicling it. "I am not yet done with writing about first black achievers and black hidden figures," she writes. "In the words of one of Fisk University's dean of women, Juliette Derricotte, who reflected on her travels in India, Japan, and China in the late 1920s, 'There is so much more to know than I accustomed to knowing — and so much more to love than I accustomed to loving.'

- New York Daily News
… uncovers African American accomplishments in all areas … such as arts and entertainment, journalism, military, and religion, with separate sections devoted to local government, county and state government, federal government, and international government.

- Protoview Book News
I really believe that this book empowers you to know that the narrative that's been placed upon [Black people] is not really what it is. We have done so many powerful things in this country. We need to teach kids about Black history.

- Rockland/Westchester Journal News
The book itself is an achievement. [I]t is a treasure trove of information about black history and surely an inspiration.

Book Views by Alan Caruba (on previous edition)
Black Firsts remains an important part of the reference collection, and school, public and academic libraries will welcome this updated version.

Booklist (on previous edition)
The third edition of this invaluable resource of African American achievements updates the previous edition. Recommended for anyone from elementary-school age to adults who are interested in African American history.

Booklist (on previous edition)
In the new book "Black Firsts" by Jessie Carney Smith, you'll find information on tens of thousands of folks who've gone before you – in a good way.

Bookworm Sez (on previous edition)
Black Firsts is a book full of hope.

Chicago Sun-Times (on previous edition)
A superb historical study of black achievement.

Houston Chronicle (on previous edition)
The well-researched sketches provide a great deal of information. This is an excellent resource for starting research on black history, but its sheer volume may be overwhelming to casual researchers. The lesser-known figures, however, make the title worth digging into.

Library Journal (on previous edition)
An exhaustive listing of the accomplishments of black Americans in the arts, business, education, the military, medicine and science, and sports.

Pittsburgh Tribune-Review (on previous edition)
This authoritative work, with its brief biographies of many accomplished and famous African-Americans, is one that writers, researchers, and libraries will want to keep close at hand for its valuable information.

Richmond Times-Dispatch (on previous edition)
An excellent reference source, but, more than most such encyclopedia collections, it also can be read.

Salt Lake Tribune (on previous edition)
This is a must-have reference.

St. Paul Pioneer Press (on previous edition)
...comprehensively catalogs the achievements of everybody from Hank Aaron to Bruce Yuille...

Syracuse Post-Standard (on previous edition)
Achievement, pride, and accomplishments. Change, progress, and pioneers.
Hard-won victories. Barrier-breaking triumphs. Society-changing feats. Inspirational people. Remarkable people, places, and events in black history are gathered in Black Firsts: 500 Years of Trailblazing Achievements and Ground-Breaking Events by Dr. Jessie Carney Smith. Updated regularly since it first published in 1994, this new edition is the first in nine years and adds hundreds of new stories, bringing readers up-to-date accounts of change, progress, and pioneers. It bears witness to the long and complex history of African Americans. The new edition collects and celebrates the thousands of world-moving people with hard-to-find facts and accomplishments that have helped shape society and culture, including …

Who was the first African American bookseller? (1834 David Ruggles, New York City)
When was the first black-owned company listed on a major stock exchange? (1971 Johnson Products)
Who was the first black U.S. senator? (1870 Hiram Rhoades [Rhodes] Revels, Mississippi)
Who was the first black American to become a member of the prestigious EGOT society (as a winner of the Emmy, Oscar, Grammy, and Tony awards)? (2018 John Legend)
Who was the U.S. Supreme Court's first black justice? (1967 Thurgood Marshall)
Who first broke the color barrier to become a flight attendant? (1958 Ruth Carol Taylor)
Who became the first black to graduate from the U.S. Military Academy at West Point? (1877 Henry Ossian Flipper)
Who was the first black president elected to The American Psychiatric Association? (2018 Altha Stewart )
Who was the first regularly recognized black physician in the United States? (1780s James Durham [Derham])
Who was the black explorer who joined the Lewis and Clark expedition? (York)
Who was the first black lawyer to argue a case before the Supreme Court? (1880 Samuel R. Lowery)
Who participated in the first armed encounter of the American Revolution and later became the first black to receive an honorary master's degree? (Lemuel Haynes)
Who was the first African American to lead the NASA space program? (2009 Charles Frank Bolden Jr.)
Who was the first black American to win the Nobel Peace Prize? (1944 Ralph Johnson Bunche)
Who was the first black American athlete to win an Olympic gold medal? (1908 John Baxter "Doc" Taylor Jr. winner of the 4 X 400-meter relay in London)
Which inventor had the first patent granted an African American? (1872 Elijah McCoy)
Who is thought to be the United States' first black millionaire? (1890 Thomy Lafon, New Orleans real estate speculator and moneylender)
Who was the first black named Association of College and Research Librarian of the Year? (1985 Jessie Carney Smith)
Which black first sang a principal role with the Metropolitan Opera? (1955 Marian Anderson)
When was the first black judge appointed to the U.S. Court of Appeals? (1966 Spottswood Robinson)
Which black artist was the first to be featured in a solo exhibit at New York's Museum of Modern Art? (1937 William Edmondson)
Who was the first known black to graduate from an American college? (1823 Alexander Lucius Twilight received a bachelor's degree from Middlebury College in Vermont)

E-mail to a Friend
Quick Facts
ISBN: 9781578596881
eBook ISBN: 9781578597307
708 pages
360 photos and illustrations
7-1/8 x 9-1/4 paperback
$39.95
Related Titles
You might also enjoy...
Also by Jessie Carney Smith, Ph.D....
---
---