The Handy Presidents Answer Book Second Edition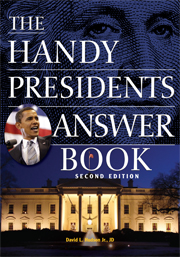 Informative resource

ARBA
Single volume standout ... excels at presenting a great deal of information in a succinct, manageable question and answer format.

Asheville Citzen-Times
In question-and-answer format, Hudson (first amendment scholar, Vanderbilt U.) concisely explains key facts about US presidential campaigns, cabinets, and policies as well as trivia about the First Family.

Book News
[C]hapters feature not only historical data but a personal look at the man who was president in a manner that will keep the interest of young readers. Students will be particularly interested in the personal aspects of the men who seem so removed from our lives in most history books. Many first ladies are mentioned, which is refreshing. Placing the president within the happenings of the period supports understanding, as well. A comprehensive index is included.

Children's Literature
A beefy contribution to presidential studies, the kind of resource from which one could easily build an interesting term report for school. A serious piece of presidential scrutiny.

Kirkus Reviews
"...a storehouse of information about all aspects of the presidents' lives."

Oklahoma City Oklahoman
I appreciate finding a reference book that will help me answer questions clearly and quickly. So, The Handy Presidents Answer Book, Second Edition by David L. Hudson, Jr. is just my kind of book. It is even written in question and answer format. The Handy Presidents Answer Book should be popular with students.

ricklibrarian.com
No matter how obscure, each resident of the White House gets about four pages, but it's far more entertaining reading than mere birth, death, and politics. This book, which even includes a "Presidential Trivia" section, would be a nice addition to libraries and classrooms. Pick it up and browse through and you'll find it hard to put down.

South Sound Book Review Council
If there's something you need to know, if you're selected for a presidential trivia game show, if you want to impress people with White House facts, you want to own this book.

The Children's Book Review
Hudson has done an excellent job.

VOYA
A complete look at every Presidents' who, what, when, where, why, and, how .
. .
Offering an engaging overview of the U.S. presidency and all past presidents, this valuable tome asks a variety of questions, from the trivial to the topical, that further expands one's understanding of America's highest office. With an intriguing range of questions about religious affiliations, unusual backgrounds, and tidbits of odd trivia--from "Which president killed a man in a duel?" to "Who was the first Baptist to become president?"--this reference also covers former presidential candidates, first ladies, key appointments, and election results. Revealing important answers to foreign policy questions and decisions made during times of war, as well as presidential actions in times of economic boom and bust, isolationism and expansion, and economic policies and unusual anecdotes, this fun and absorbing anthology provides a thorough overview of more than 200 years of U.S. presidents.
Test your knowledge with our President of the Day quiz based on the book.

E-mail to a Friend
Quick Facts
ISBN: 9781578593170
PDF ISBN: 9781578593583
Kindle ISBN: 9781578593590
ePUB ISBN: 9781578593606
512 pages
7.125 x 9.25 paperback
$42.95 ($24.95 Can.)
Political Science
Related Titles
You might also enjoy...
Also by David L Hudson, Jr....
---
---