The Handy Astronomy Answer Book, Third Edition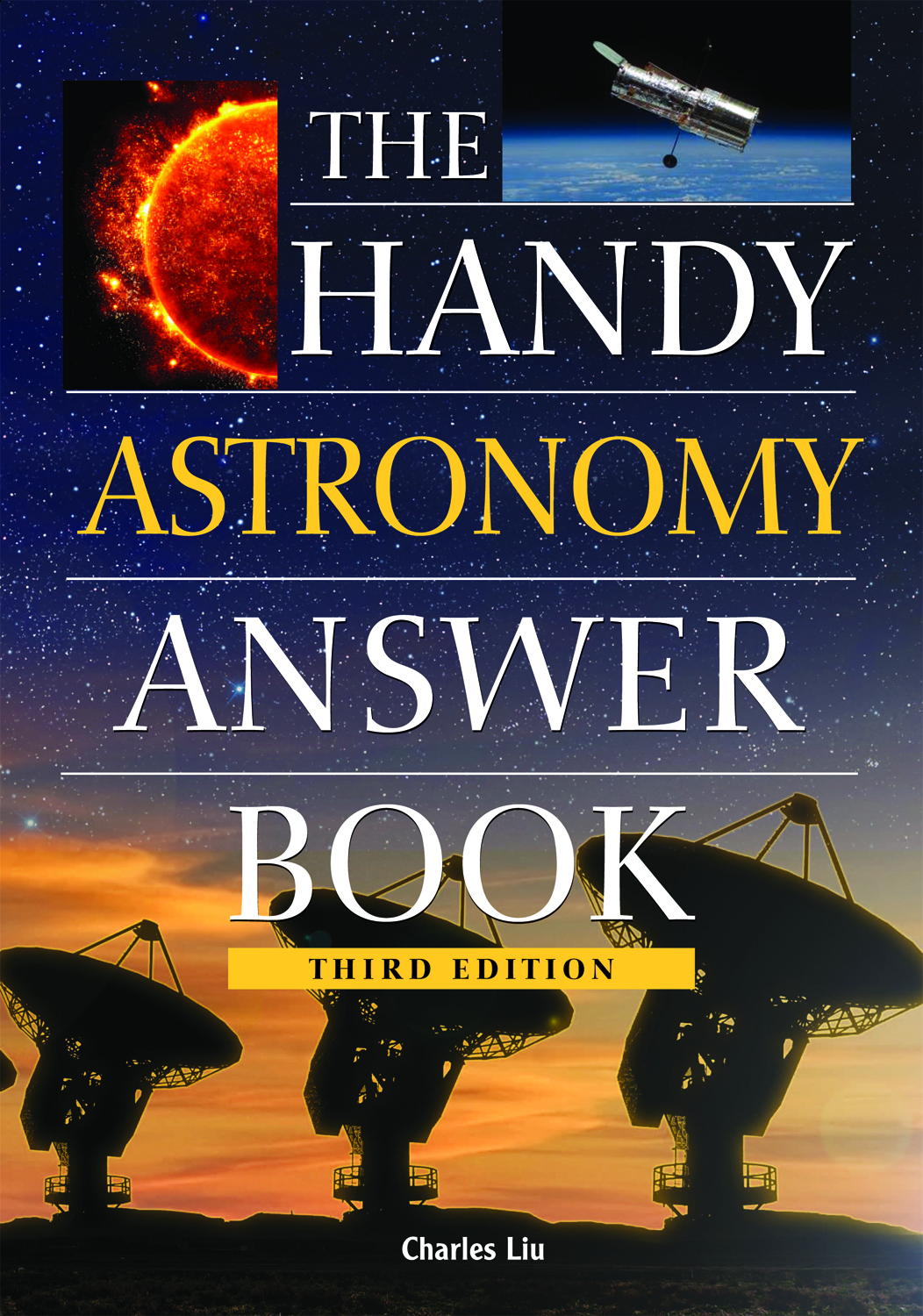 The book is written in understandable language, but the answers are not over-simplified and provide sufficient detail for understanding the concept or feature described, making this book appropriate for readers for high school to college.

American Reference Books
The range of topics [this book] presents is vast and comprehensive, with many fascinating informational tidbits. [T]his book remains stimulating and useful, whether one dips through its pages haphazardly or reads it cover to cover.

Book Review Digest
The Handy Astronomy Answer Book provides concise answers to commonly posed questions about planets, stars, space exploration, and the universe, and thus serves both as a ready-reference source and beginner's guide to the cosmos.

C&RL News
What a super reference book! There are answers to more than 1,000 questions relating to astronomy, which includes the stars, planets, the universe, and just about anything you can imagine. The answers are written so that a non-scientist can glean some understanding. Take this book in small bites and savor each one, then move on to the next topic of interest. By the time you finish this feast you will have a incredible layman's knowledge of astronomy. There is an extensive index, and more than 100 color photographs are interspersed within the questions and answers.

Children's Literature
The Handy Astronomy Answer Book will no doubt end up a dog-eared and well-used treasure trove of cosmological curiosities sure to please anyone who ever looked up and wondered in awe about our place in the bigger scheme of things.

curled up with a good kid's book
The Handy Astronomy Answer Book ... poses hundreds of heady questions about such matters as the Big Bang, sunspots, black holes, quarks, neutrinos and Carl Sagan. [A] handy reference, ... accessible writing and careful structure [convey] the pleasures of science and discovery.

Kirkus Reviews
This clearly written and up-to-date title—it includes a readable definition and description of the Higgs boson particle—is an informative and browsable addition for young adults and adults.

Library Journal
includes information on virtually every topic related to outer space ... this book brings the wonders of our universe to life.

Lunar and Planetary Information Bulletin
As the third edition, it just keeps getting better and more cutting–edge with its answers. I highly recommend this book. Some of the topics become very technical while others remain very basic so the book appeals to a wide range of audiences.

National Science Teachers Association
If you have questions about space or astronomy, this book will provide what you want to know.

San Antonio Express-News
seamless accessibility … combined with its concise and informative prose, engages readers as they move from the Earth, across the Milky Way, and beyond. … generous illustrations throughout ... handy for working on research projects or general reading, is a recommended purchase for media centers and public libraries.

School Library Journal
True to its title ... all that and more. Amazingly brief entries cover enormous topics.

Seattle Times
Unraveling the Mysteries of the Night Sky
We look to the heavens and wonder in awe. Shooting stars, constellations, planets, galaxies, and the unknown. What is out there? Who is out there? How did the stars and planets come to be? What does it all mean? The last few years have brought an explosion of information leading to serious consideration of questions once deemed crazy. Do other universes exist? Are there planets that could harbor life?
Astronauts, Quasars, and Stars
The Handy Astronomy Answer Book takes you on a journey through the history, science and the latest findings in astronomy. This book tells the story of astronomy—of the cosmos and its contents, and of humanity's efforts throughout history to unlock its secrets and solve its mysteries. You'll learn the answers to more than 1,000 questions on astronomy and space, including …
-What is astrobiology?
-What is the Dresden Codex, and what does it say about Mayan astronomy?
-What happened between Galileo and the Catholic Church?
-What is the longest time that a human has been in space?
-What is a gamma-ray burst?
-Where are the space shuttles today?
-How do I use a star chart to find stars and constellations?
Black Holes, Extraterrestrial Life, and Dark Matter
From the basic physics and history of astronomy to using star charts, telescopes, and other helpful hints for the home astronomer, and from space mission programs to the greatest adventure of all—the search for life beyond Earth—The Handy Astronomy Answer Book includes information on virtually every topic related to outer space. Containing over 120 color illustrations and photos, this book brings the wonders of our universe to life!

E-mail to a Friend
Quick Facts
ISBN: 9781578594191
PDF ISBN: 9781578594801
Kindle ISBN: 9781578594825
ePUB ISBN: 9781578594818
368 pages
120 photos and illustrations
6.8 x 9.7" paperback
$44.95
Related Titles
You might also enjoy...
Also by Charles Liu, PhD...
---
---