The Handy Geography Answer Book, Third Edition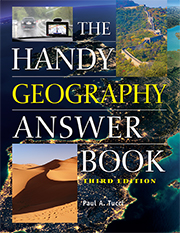 A Top 10 Basic Geography Book!

About.com
...operates like a trivia game with a myriad number of questions loosely arranged under each topic. ... (for) anyone with a casual interest in geography.

ARBA
An interesting, quick reference book, The Handy Geography Answer Book is a friendly way to make geography fun.

Christian Library Journal
...essential ready-reference key to accessing specific information. ... just get comfy and enjoy a trivia-fest.

Library Journal
… answers around 1,200 questions about geography, related to definitions, the Earth, continents and islands, human civilization, people and countries, maps, the physical environment, water and ice, climate, hazards and disasters, transportation and urban geography, political and cultural geography, time, calendars, seasons, exploration, and various regions of the world. …

Protoview Book News
Reader-friendly. Leads the geographically illiterate along to a better understanding of what happened where and why. A great reference.

San Antonio Express-News
A page-turner of illustrations, maps, indexing, and data, Tucci's completely up-dated geography miscellany invites the curious to learn more about planet Earth. … Succinct, yet informative … A terrific gift book, stocking stuffer, and coffee table book to stimulate learning … a must-have …

VOYA
Your smart phone is great for finding your destination.
Yet, it doesn't explain how the roads we travel, the towns we visit and borders we cross came to be located. Geography is so much more than just maps. It is about the land, the people on that land, the delicate balance of nature, and our very interdependence upon it. It's about the effects of nature on places and people, as well as how politics, borders, cities, and towns affect our lives.
The Handy Geography Answer Book
traces the history of geography from Eratosthenes and Alexander von Humboldt to the latest advances in the Global Positioning System (GPS) and mapping technology. It provides insights into economic, social, historic, culture, religious, political, and climate geography, plus oceanography, demographics, and more.
Completely revised and updated, it gives readers a tour of the world, its natural features, and the ever-changing mark humans make on our planet, answering 1,200 questions from the trivia (longest, hottest, tallest) to how geography has influenced history, religion, architecture, and the location of cities, including: Why is every two-dimensional map distorted? Who first had the idea that there is a magnetic North Pole? What is interesting about Google's "Streetview"? How many people are projected to live on the planet in 2050? Which state has the highest annual divorce rate? What are the largest and smallest counties in the United States? How is China changing our map of the world? Of all 54 countries in Africa, which ones were never colonized?
With up-to-date maps and country information, this book let's you bring the world home. The Handy Geography Answer Book gives directions to the world, its people, its countries, its history, and more!

E-mail to a Friend
Quick Facts
ISBN: 9781578595761
PDF ISBN: 9781578596256
Kindle ISBN: 9781578596270
ePUB ISBN: 9781578596263
464 pages
140 photos, illustrations and maps
7.125 x 9.25 paperback
$49.95
Related Titles
You might also enjoy...
Also by Paul A Tucci...
---
---