Real Nightmares: True and Truly Scary Unexplained Phenomena (book 1)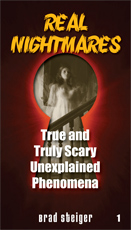 Brad Steiger's new e-book series delivers chills. I'm eager to see the next volumes in the series.

about.com
'Real Nightmares' [a] pleasure ... reading. Brad Steiger [is] one of the influential writers of our time.

Huffington Post
If you want to entertain yourself … with astounding tales of horror, terror, and unearthly entities … then Brad Steiger's Real Nightmares is a series I most definitely recommend you get your teeth into.

mania.com
Another definite MUST READ from the master of monsters and ghoulies and everything that goes bump in the night ( AND day!), Brad Steiger. Check out his newest and latest in the wonderful world of paranormal investigations. Great stories to read by candlelight!

Raven's Mysterious Haven
Where there is darkness, Brad brings knowledgeable enlightenment. A definite must read!

www.hpiparanormal.net
What's your worst nightmare? Is it that ghost lurking next door?
The cabal conspiring to rule the world? Those monsters slithering under your bed? The extraterrestrial visitors lurking among us? Paranormal researcher extraordinaire Brad Steiger, an author of thousands of books and articles on the mysterious and unknown, gathers his favorite and scariest stories of the unexplained in this compilation. Have you ever awakened with a start, hoping it was just a dream? Sorry, these stories are not dreams. They are unbelievable, but true tales of the supernatural, mysterious, and the downright spooky. Keep the lights on when you read Real Nightmares: True and Truly Scary Unexplained Phenomena.

E-mail to a Friend
Quick Facts
ISBN: ebook only
PDF ISBN: 978-1-57859-399-6
Kindle ISBN: 978-1-57859-398-9
ePUB ISBN: 978-1-57859-400-9
60 pages
60 pages in color
eBook
$2.99 ($2.99 Can.)
Related Titles
You might also enjoy...
Also by Brad Steiger...
Author Websites
---
---