Serial Killers: The Minds, Methods, and Mayhem of History's Notorious Murderers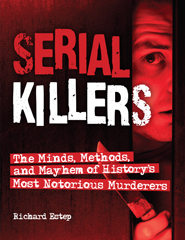 Thirty-three chapters cover individual serial killers … "rampages and sprees." … will endear the book to readers who have a similar horrified fascination with the murderously depraved. … This will see high circulation wherever true crime is popular.

Booklist
… wrap up "Serial Killers: The Minds, Methods, and Mayhem of History's Most Notorious Murders" by Richard Estep, for the best gift for a true crime fan ever.

Bookworm Sez
Serial killing is a popular subject for those indulging in criminous extremism, reading about the horrors of HH Holmes and his "murder castle", the transatlantic monsters John Wayne Gacy, Ted Bundy and Dennis Rader, and Britain's Dennis Nilsen and John Christie. Denver paramedic Richard Estep has now further enriched the literature.

Fortean Times
While several of the book's histories are widely known …, Estep also includes lesser-known cases … Though Estep speculates on how these people became murderers and notes characteristics shared by some serial killers—narcissism, head injuries, animal torture, bed-wetting, being bullied—he concludes that we may never truly know why someone kills. … concise, well-written case studies will leave readers wanting to learn more.

Library Journal
… relates the stories of 40 serial killers … detailing their lives from childhood to adulthood, and the factors that contributed to their behavior. He profiles Jack the Ripper, Tsutomu Miyazaki, Andrei Chikatilo, Ted Bundy, John Wayne Gacy, Richard Ramirez, Harold Shipman, Aileen Wuornos, Edmund Kemper, the Zodiac Killer, H.H. Holmes, Albert Desalvo, Dennis Rader, Charles Whitman, and others.

Protoview Book News
Pain, torment, and torture.
Cruelty, brutality, and violence. The twisted psyches, murder. and yes, even the ability to charm people. Take a deep dive into the terrifyingly real serial murderers, spree killers, and true faces of evil!
They prey on the innocent with a malicious desire to inflict damage and harm. They hunt and stalk misfortunate victims in the dark, in broad daylight, in quiet neighborhoods, and in the local woods. Their blood thirst isn't satisfied after their first kill. Or their second. Or third. Serial Killers: The Minds, Methods, and Mayhem of History's Most Notorious Murderers delves into the global phenomenon of serial and spree murderers.
This chilling book looks at the horrifying stories of forty malevolent killers and hundreds of innocent victims, including such notorious homicidal maniacs as John Wayne Gacy, Ted Bundy, and Jeffery Dahmer, but it also looks at lesser-known and overlooked murderers like Herbert Baumeister, America's I-70 Strangler; Japan's "Anime Killer," Tsutomu Miyazaki; Russia's "Rostov Ripper," Andrei Chikatilo; the "Giggling Granny," Nannie Doss; and many more. It journeys to 16th-century Scotland to meet a clan of cannibals whose existence is still debated by historians today, and to the fog-shrouded alleys of Whitechapel, London, where Jack the Ripper earned his grisly namesake. Along the way, we'll meet the Dating Game Killer, the Milwaukee Cannibal, the Acid Bath Murderer, and other monsters.
Serial Killers also asks the questions …
What makes a seemingly ordinary person stalk, torture, and murder their fellow human beings?
Are serial killers born or made?
What is the difference between a serial killer and a spree killer?
What were the identities of Jack the Ripper and the Zodiac Killer?
Was Albert DeSalvo really the Boston Strangler?
Is it possible that you could know a serial killer?

Caution is advised before entering the alarming world of twisted psychos and sociopaths!

E-mail to a Friend
Quick Facts
ISBN: 9781578597079
eBook ISBN: 9781578597444
400 pages
160 photos and illustrations
7.125 x 9.25 paperback
$19.95
Related Titles
You might also enjoy...
Also by Richard Estep...
---
---