The Dream Interpretation Dictionary: Symbols, Signs and Meanings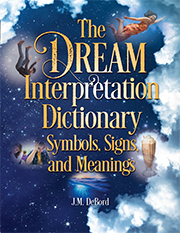 … treasure chest of a vast number of common dream symbols and scenarios and the various meanings and interpretations …

Alternative Perceptions Magazine
… offers a lot of suggestions to explore with each symbol … [the author] has so much knowledge about dreams and its symbolism ...

Mindfunda.com
… covers 750 key symbols as well as thousands of secondary signs, and includes meanings for contemporary symbols such as Facebook and various celebrities. …

Protoview Book News
A thoughtful, well written and deep look at dream symbols in a dictionary format. This may serve as a handy reference for those completely befuddled by their dreams.

Robert Waggoner, author of Lucid Dreaming
Why we dream what we dream …

Revelations.
Warnings. Explanations. Clues. What do dreams reveal? Can they spark creative inspiration? Do they hold clues to the future? What's the purpose of nightmares—and can they be stopped? Why do some people show up in dreams? What's behind a dream within a dream?
Illuminating the meanings behind dreams, decoding clues, explaining symbols, and revealing the universal meanings of each, as well as their subtler associations, The Dream Interpretation Dictionary: Symbols, Signs, and Meanings explores the messages delivered by the unconscious mind during sleep. It examines how dreams connect to daily life and represent personal situations. It shows how dreams can lead to deeper understanding, build self-awareness, spark inspiration, or warn us of danger ahead.
From entries ranging from "Abandonment" to "Zoo," this hefty tome analyzes sex dreams, money dreams, dreams of falling, running, or paralysis and much, much more. It brings profound insights to thousands of dream messages. It shows what to look for and what to ignore and teaches how to master dream interpretation. The complexity and context of a dream are explored. Covering more than 750 key symbols, thousands of secondary signs, and their possible meanings, dream symbolism and interpretation are examined in detail.
Nearly one-third of our life is spent sleeping and dreaming. The Dream Interpretation Dictionary will unlock the power of your dreams.

E-mail to a Friend
Quick Facts
ISBN: 9781578596379
PDF ISBN: 9781578596577
Kindle ISBN: 9781578596591
ePUB ISBN: 9781578596584
480 pages
7-1/8 x 9-1/4 paperback
$26.95
Related Titles
You might also enjoy...
Also by J.M. DeBord...
Author Websites
---
---