The Handy Investing Answer Book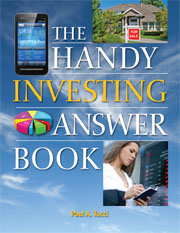 This book is highly recommended ...

American Reference Books
... ideal for the investing novice or whether you think you have spotted a trend. Tucci covers the whole investment marketplace from stocks, bonds, mutual funds, real estate, tax strategies, to retirement planning. In plain English explains the basics while giving tips on how to avoid poor returns and unnecessary risk. ... His book pretty much answers all the questions you would ask a financial advisor and much more.

Bookviews
This easily readable, thorough question-and-answer guide acts as a valuable reference for novice and experienced investors alike.

Foreword blog
... has all the answers for the ordinary consumer who may not understand all of the complexities associated with modern-day investing.

Foreword Reviews
...neophyte and even more sophisticated investors will find this work a clear and expansive introduction.

Library Journal
Buying low, selling high, building a nest egg, and everything to build a prosperous financial life.
Whether you are a novice or budding expert, there is much to consider and know when investing: stocks, bonds, mutual funds, real estate, retirement planning, and tax strategies, just for starters. It can all be difficult and confusing.
The Handy Investing Answer Book
explains, in plain English, the basics of investing, and it explores a variety of investments and their differences, avoiding poor returns and unnecessary risk, understanding financial markets—and how to prevent banks, mutual fund managers, and financial advisers from getting rich at your expense. It offers simple investment strategies; investigates common pitfalls; examines concepts of compounding, portfolios, and diversification; traces the history of investing; and offers much more to help everyone make wise decisions about their financial future.
More than 1,400 common questions are given easy-to-understand answers, including: Why is dollar cost averaging a beneficial strategy for investing? What is a home equity loan? What are some of the steps to establishing the right goals for investing? What is diversification? What types of risks could we see if we own individual stocks? When did mutual funds start? and What is laddering?

E-mail to a Friend
Quick Facts
ISBN: 9781578594863
PDF ISBN: 9781578595273
Kindle ISBN: 9781578595297
ePUB ISBN: 9781578595280
384 pages
110 photos and drawings
$21.95 ($23.99 Can.)
Related Titles
You might also enjoy...
Also by Paul A Tucci...
---
---