Real Unexplained
Browse Titles
The Alien Book: A Guide to Extraterrestrial Beings on Earth


Unmasking the mysteries of alien life on earth! Make mention of the word "alien" and it conjures images of black-eyed, large-headed,... Read More »

Alien Mysteries, Conspiracies and Cover-Ups


The Shocks, the Surprises, and the Mysteries Uncovered, Unraveled, and Exposed Thoroughly investigated by a former army officer and... Read More »

American Ghost Stories: True Tales from All 50 States


Take an eerie road trip! A chilling collection of true ghost stories spanning every state in the United States with a full range of ghostly... Read More »

Ancient Gods: Lost Histories, Hidden Truths, and the Conspiracy of Silence


Where do we come from? What are the origins of modern civilization? Do the world's pyramids, the Nazca Lines, Easter Island statues, and other... Read More »

Area 51: The Revealing Truth of UFOs, Secret Aircraft, Cover-Ups, & Conspiracies


Secrets, Myths, Disinformation Revealed! Area 51 sits on an unmarked dirt road that runs through the desolate southern Nevada desert. Warning... Read More »

Armageddon Now: The End of the World A to Z


Don't be left behind. Who knew that doomsday would be so hot? Environmental disasters, disease epidemics, the popularity of reality television, and... Read More »

The Bigfoot Book: The Encyclopedia of Sasquatch, Yeti, and Cryptid Primates


Legendary … Lurking … Notorious Elusive Famous sightings, mythic folklore, and sensational hoaxes. What are we to believe? Does a hulking,... Read More »

Celebrity Ghosts and Notorious Hauntings


Stories of Fame, Death and Ghostly Immortality ... Even the most famous stars sometimes come back as infamous ghosts and apparitions. Whether... Read More »

Censoring God: The History of the Lost Books (and other Excluded Scriptures)


Why isn't the Book of Enoch in the Holy Bible, even though Enoch is referenced multiple times? Why were texts considered sacred by many, excluded... Read More »

Conspiracies and Secret Societies: The Complete Dossier of Hidden Plots and Schemes


The invisible world of influence and power revealed. Hidden agendas uncovered. An examination of over 250 current and historical conspiracies,... Read More »

Control: MKUltra, Chemtrails, and the Conspiracy to Suppress the Masses


Freedom of speech. Free exercise of religion. The right to peacefully assemble and to bear arms. Free will is an integral part of democracy, but how... Read More »

Cover-Ups & Secrets: The Complete Guide to Government Conspiracies, Manipulations & Deceptions


Disinformation comes in many forms. Denying, deadcatting, discrediting, and demonizing. Forged documents, fabricated intelligence, subversion,... Read More »

Demons, the Devil, and Fallen Angels


An illuminating look at demons, devils, fallen angels, and the darker sides of human nature The devil goes by many names, and his tribe is... Read More »

The Dream Interpretation Dictionary: Symbols, Signs and Meanings


Why we dream what we dream … Revelations. Warnings. Explanations. Clues. What do dreams reveal? Can they spark creative inspiration? Do they... Read More »

The Government UFO Files: The Conspiracy of Cover-Up


The files of the CIA, the FBI, the FAA, NASA, the Army, Navy, Air Force, and other U.S. government agencies all have documents relating to UFOs, UFO... Read More »

Haunted: Malevolent Ghosts, Night Terrors, and Threatening Phantoms


A fright-filled journey into a world of ghosts, hauntings, and the unexplained. Bringing forth the spirits, touching on near-death experiences and... Read More »

Hidden History: Ancient Aliens and the Suppressed Origins of Civilization


Investigates and questions the scientific consensus on the origins of civilization The term "history" comes from the ancient Greek word... Read More »

Hidden Realms, Lost Civilizations, and Beings from Other Worlds


The secrets of mystical and legendary places--revealed . . . Claims of supernatural realms, parallel worlds, and lost civilizations are put to the... Read More »

The Horror Show Guide: The Ultimate Frightfest of Movies


The Horror! The Frights! The Diabolic Fiends! Atomic bombs, mad serial killers, zealous zombies, maniacal monsters lurking around every... Read More »

The Illuminati: The Secret Society That Hijacked the World


Shining a Light on a Shadowy Society Secret Schemes. Concealed Connections. Pernicious Power. Intimate Initiations. Big banks and market... Read More »

Lost Civilizations: The Secret Histories and Suppressed Technologies of the Ancients


Unearthing the scientific evidence, myths, and legends of ancient civilization! The reminders of the Ancients are everywhere. They are saved... Read More »

The Monster Book: Creatures, Beasts, and Fiends of Nature


Uncomfortably, Terrifyingly and too Real! Scientists and zoologists may assert they are not based in fact. Historians try to assure us they are... Read More »

Monsters of the Deep


A deep dive into the undersea netherworld of sea serpents, lake monsters, surviving dinosaurs, genetically altered mutants, and legendary aquatic... Read More »

The New World Order Book


A compelling look at the hidden power and the inner workings of the New World Order. While we are assured by our leaders that global treaties... Read More »

Nightmares: Your Guide to Interpreting Your Darkest Dreams


An illuminating look at interpreting, understanding, and learning to stop nightmares! You're chased. You fall. You get shot.... Read More »

Real Aliens, Space Beings, and Creatures from Other Worlds


Just who has visited us in the past? Who might be coming next? And who walks among us today? Real Aliens, Space Beings, and Creatures from Other... Read More »

Real Encounters, Different Dimensions and Otherworldy Beings


Chancing the Unexplained From mysterious strangers and unpredictable beings to weird behavior and paranormal phenomena, Real... Read More »

Real Ghosts, Restless Spirits, and Haunted Places, Second Edition


The Final Word on Ghosts Real Ghosts, Restless Spirits, and Haunted Places is more than a collection of true ghost stories. You... Read More »

Real Miracles, Divine Intervention, and Feats of Incredible Survival


Lightning strikes, lotteries, and Lourdes--miracles really do happen Including more than 200 true, thought-provoking stories, this... Read More »

Real Monsters, Gruesome Critters, and Beasts from the Darkside


Beware! Monsters are Everywhere Monsters have been spotted everywhere, not just slithering under a child's bed or lurking in... Read More »

Real Nightmares: True and Truly Scary Unexplained Phenomena (book 1)


What's your worst nightmare? Is it that ghost lurking next door? The cabal conspiring to rule the world? Those monsters slithering under your... Read More »

Real Nightmares: Ghastly and Grisly Spooks (Book 10)


Fiendish ghosts, demonic spirits, and sinister skin walkers. Shocking tales to bring doubt about your safety. From shadowy encounters to horrific... Read More »

Real Nightmares: Secret Schemes and Conspiring Cabals (Book 11)


Shocking discoveries. Suppressed witnesses. Attempted anarchy. Evidence, cover-ups, and threats. Top-secret documents, governments lies, and the... Read More »

Real Nightmares: Freaks, Fiends and Evil Spirits (Book 12)


Unnatural squeals. Hair-raising yelps. Wretched cries. What sinister beings lurk in the woods, swamps, cities, and closets near us? Dark stories of... Read More »

Real Nightmares: True Unexplained Phenomena and Tales of the Unknown (book 2)


Do you think that you have bad dreams? Well, these people have lived them! Secret government experiments, soulless monsters, a haunted mansion, and... Read More »

Real Nightmares: Things that go Bump in the Night (book 3)


Demon possession, men in black, the devil baby, ethereal abduction, what's under the bed?!?—and you thought you couldn't sleep. Paranormal researcher... Read More »

Real Nightmares: Things that Prowl and Growl in the Night (book 4)


Zombies, vampires, werewolves, and nasty ghosts that roam at night. Paranormal researcher extraordinaire Brad Steiger, an author of thousands of books... Read More »

Real Nightmares: Fiends That Want Your Blood (book 5)


Fangs, slashing knives, and almost being eaten alive. Confronted by the unimaginable, how would you cope? Paranormal researcher extraordinaire Brad... Read More »

Real Nightmares: Unexpected Visitors and Unwanted Guests (book 6)


Abducted, surprise visitors, and a mysterious gas station. Normal days and normal lives interrupted by the unusual and unwanted. Paranormal... Read More »

Real Nightmares: Dark and Deadly Demons (book 7)


Nasty ghosts. Family curses. A fateful bogey man. Shrieks, howls, and cries of terror. Those and more dark tales of sinister creatures await you in... Read More »

Real Nightmares: Phantoms, Apparitions and Ghosts (book 8)


Screech! Rattle! and Thump! From blood-curdling whispers to miraculous events, the good, the bad and the frightful unseen presences await you in this... Read More »

Real Nightmares: Alien Strangers and Foreign Worlds (Book 9)


Abductions, invasions, and encounters. Entities, aliens, and ancients. Who is among us? What happened in the past and what should we expect for the... Read More »

Real Vampires, Night Stalkers, and Creatures from the Darkside


Not only do vampires exist, they walk among us! Paranormal researcher extraordinaire, Brad Steiger, reveals that real vampires are not immortal, do... Read More »

Real Visitors, Voices from Beyond, and Parallel Dimensions


Apparitions. Out-of-body journeys. Ghosts. Angels. Spirits. Unidentified terrestrial life forms. Bumps in the night. Encounters with the unknown.... Read More »

Real Zombies, the Living Dead, and Creatures of the Apocalypse


The macabre secret history of the undead . . . Featuring 30 chilling stories of real life zombie encounters, this comprehensive and... Read More »

Runaway Science: True Stories of Raging Robots and Hi-Tech Horrors


Will computers come to dominate man? Will advanced technology, robots, and artificial intelligence enhance or destroy our future … thereby changing... Read More »

The Sci-Fi Movie Guide: The Universe of Film from Alien to Zardoz


Once upon a time, science fiction was only in the future. It was the stuff of drive-ins and cheap double-bills. Then, with the ever-increasing rush of... Read More »

Secret History: Conspiracies from Ancient Aliens to the New World Order


Conspiracies, Cabals, and Plots History is written by the winners—and the powerful—but how much of it is fiction? Were schemes concealed?... Read More »

Secret Societies: The Complete Guide to Histories, Rites, and Rituals


Claims and counter-claims. Accusations and allegations. NSA spying and suppressed evidence. Cover-ups and threats. Documented connections and... Read More »

The Serial Killer Next Door: The Double Lives of Notorious Murderers


How well do you know your neighbors? Maybe you should get to know them better! Growing up, we are taught that monsters are easy to identify, but... Read More »

Supernatural Gods: Spiritual Mysteries, Psychic Experiences, and Scientific Truths


Exploring the collision of the "supernatural" unknown, the universe, and science Black Holes. Dark Matter. Dark Energy. Entanglement Theory.... Read More »

Time Travel: The Science and Science Fiction


Jumps, Leaps, and Travels Who doesn't yearn to travel through time to revisit the past or see the future? We live much of our lives... Read More »

Toxin Nation: The Poisoning of Our Air, Water, Food, and Bodies


Should we really trust the government, Big Pharma, agribusinesses, factory farms, or the fossil-fuel industry with our safety? We live in... Read More »

The UFO Dossier: 100 Years of Government Secrets, Conspiracies, and Cover-Ups


Encounters, Sightings, and Secrets Exposed Is the government hiding facts or is it merely incompetent? Are witnesses to be believed? Exposing... Read More »

Unexplained! Strange Sightings, Incredible Occurrences, and Puzzling Physical Phenomena, Third Edition


Seeing Is Believing. Or Is It? Weird stuff happens. Spontaneous human combustion, hairy bipeds, the massive Tunguska event, green... Read More »

The Vampire Almanac: The Complete History


Immortality, Temptation, and the Forbidden! What accounts for the undying fascination people have for vampires? How did encounters... Read More »

The Vampire Book: The Encyclopedia of the Undead, Third Edition


The Ultimate Collection of Vampire Facts and Fiction Death and immortality, sexual prowess and surrender, intimacy and... Read More »

The Werewolf Book: The Encyclopedia of Shape-Shifting Beings, Second Edition


When Darkness Reigns and the Full Moon Glows, Terror Emerges to Stalk the Unsuspecting… Read More »

Werewolf Stories: Shape-Shifters, Lycanthropes, and Man-Beasts


Beware the Full Moon! Take a hair-raising tour of werewolf legends. Meet shape-shifters, dogmen, and all variety of human and lupine mixes in this... Read More »

The Zombie Book: The Encyclopedia of the Living Dead


Rampaging, driven, killing machines. Soulless and dead. Infected and infectious. Zombies. The epidemic of the living dead is stronger than ever in... Read More »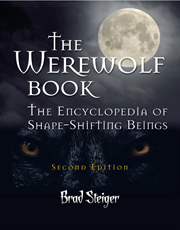 ---
Werewolf Fact of the Day:
What herb was believed to both cause and cure werewolves?
---
---
Thanks for visiting. Check back daily for new flashcard questions, fun facts, and other trivia. For past questions, fun facts and trivia—and other topics—visit our archive of quizzes and fun facts--or dig even deeper into a topic through our list of books by subject.
---