Native American Landmarks and Festivals: A Traveler's Guide to Indigenous United States and Canada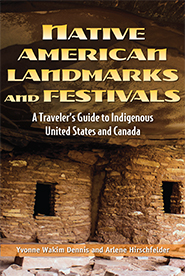 … a comprehensive look at the various landmarks, festivals, museums, ruins, and more that encompass Native American culture. … for those doing research or planning a trip.

American Reference Books Annual
This authoritative, information-packed volume will be invaluable for tourists but also useful to others researching Indian history, heritage, and current cultural production.

Library Journal
… recognizing the legacy of Indigenous cultures in the United States and Canada ...

Protoview Book News
The ultimate traveler's guide to Indian Country. Experience the Indigenous world in nearly one text.... takes readers through a tour of the rich heritage of Indigenous people, with thoughtful storytelling and background information of what to see and do in Indian Country.

Tribal Business Journal
Experience and explore Native American history, culture, sites, and activities with Native American Landmarks and Festivals: A Traveler's Guide to Indigenous United States and Canada.
From ancient rock drawings, historic sites, and modern museums to eco- and cultural tourism, sports events, and powwows, it provides a fascinating tour of the rich heritage of Indigenous people across North America. Whether a rough ride to the ancient Kaunolu Village Site on Lanai, Hawaii, the Sand Creek Massacre National Historic Site or the Poarch Band of Creek Indians of Alabama's powwow on Thanksgiving Day, there is much to experience in the Indigenous world right around the corner, including • The Montezuma Castle National Monument • The annual All Indian Rodeo in Las Vegas, Nevada • Sequoyah's Birthplace • Trail of Tears National Historic Trail • Jim Thorpe House • The Autry Museum of the American West • The Mashantucket Pequot Museum & Research Center • The Thunderbird Powwow • Aztec Ruins National Monument • The First Nations Film and Video Festival in various cities and states • Crazy Horse Memorial • The Harvest Moon American Indian Festival • The Little Bighorn Battlefield National Monument • Dog-sledding tour through a boreal forest • Wounded Knee Battlefield • Grand Portage National Monument • And hundreds more!
For anyone looking for an "authentic" adventure or interested in the history of North America's Indigenous people, this book uncovers monuments, parks, teepee sleepovers, herbal walks, building and sailing in canoes, hiking along ancient routes, exploring rock art, and preparing and eating Native foods. Indigenous enterprises are included in state and federal parks, federal and international heritage sites, public and private museums, and non-Native events that include an Indigenous voice.
Featuring vivid illustrations, and a useful index to aid discovery, this informative guide provides the exact location, phone number, and website for each of the 729 landmarks, sites, festivals and activities. Whether preparing for a road-trip or an armchair adventure, Native American Landmarks and Festivals: A Traveler's Guide to Indigenous United States and Canada will bring hours of enjoyable reading and discovery.

E-mail to a Friend
Quick Facts
ISBN: 9781578596416
eBook ISBN: 9781578596942
448 pages
120 photos, illustrations and maps
6 x 9 paperback
$22.95
Related Titles
You might also enjoy...
Also by Yvonne Wakim Dennis...
Also by Arlene Hirschfelder...
---
---