The Handy Science Answer Book, Fifth Edition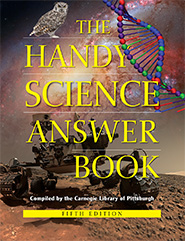 This update of the 2010 edition offers a plethora of fun facts along with brief scientific explanations. ... informative and entertaining title ...

-Booklist
… an enjoyable way for the scientifically inclined to while away a few hours.

-Library Journal
… addresses questions in general science, math, physics, chemistry, astronomy and space, geology and earth science, meteorology and climatology, biology, genetics, botany, zoology, anatomy and physiology, ecology, and applied science and technology …

-Protoview Book News
Clear, concise and straightforward, with a wide range of information … This newly updated 5th edition continues to be an educational resource that is both informative and enjoyable. The questions are interesting, unusual, frequently asked, or difficult to answer. … answers burning questions, supports homework assignments, provides engaging trivia, and helps satisfy an innate thirst for knowledge.

-SirReadALot.org
...a superior source on essential science data...

ARBA (on previous edition)
A book filled with answers to the frequently asked questions of science and technology, this fourth edition updates the research. The straight-forward writing could be understood by fourth grade and up. The book is organized with an extensive table of contents at the beginning and an even more extensive index at the end.

Children's Literature (on previous edition)
A user-friendly guide explaining scientific concepts in plain English. Recommended.

Christian Library Journal (on previous edition)
Here's a way to answer those burning questions you wonder about, or the ones your teacher asks for homework.

Dallas Morning News (on previous edition)
The eight years since this title's last appearance constitute an era in some sciences, marking high time for a new edition. Recommended.

Library Journal (on previous edition)
Easily read by students in grades 4-12, this resource invites the curious mind to explore.... What a fun and educational way to explore the wonders of the world of science, the world in which we live.

National Science Teachers Association (on previous edition)
Fascinating stuff. Most readers will have hours of fun just picking pages at random.

Pittsburgh Magazine (on previous edition)
...this science resource will resolve arguments, support homework assignments, provide engaging trivia, and help satisfy readers' curiosity.

SciTech Book News (on previous edition)
Science is everywhere, and it affects everything!
DNA and CRISPR. Artificial sweeteners. Sea level changes caused by melting glaciers. Gravitational waves. Bees in a colony. The human body. Microplastics. The weight of a cloud. Forces, motion, energy, and inertia. It is sometimes simple and elegant, or it is sometimes complex and complicated, but science does not need to be difficult to understand. Clear, concise, and straightforward, this informative and fun resource answers more than 1,600 of the most common and intriguing science questions, including
When was a symbol for the concept of zero first used? What gives coral their colors? How many exoplanets have been discovered? When will Niagara Falls disappear? What is the scientific method? Do pine trees keep their needles forever? What is a light year? How do insects survive the winter in cold climates?
With a wide range of information, this is the ideal source for anyone looking to get a better understanding of science. This engaging book is a wonderful resource for the curious as well as a friendly guide easily read from cover to cover. Entertaining and enlightening, The Handy Science Answer Book answers burning questions, supports homework assignments, provides engaging trivia, and helps satisfy an innate thirst for knowledge. With more than 200 photos and illustrations, this informative book also includes a helpful bibliography and an extensive index, adding to its usefulness.

E-mail to a Friend
Quick Facts
ISBN: 9781578596911
eBook ISBN: 9781578597024
624 pages
140 photos and illustrations
7-1/8 x 9-1/4 paperback
$32.95
Related Titles
You might also enjoy...
Also by James Bobick...
Also by Naomi Balaban...
---
---