The Handy Dinosaur Answer Book, Second Edition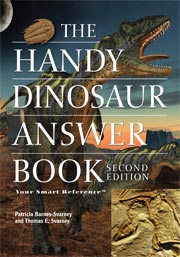 This is a good book for the general reader and for public libraries.

American Association for the Advancement of Science
This is one of a series of books written by two scientists, one a science writer, aimed at informing young adults about an important area of science. Simply and accurately written, it presents material in an easy-to-use and readable format. The title promises handy answers and it delivers them.

American Reference Books Annual
Most children share an interest in dinosaurs. Along with that come questions about dinosaurs. Well, here are the answers in a text that will be accessible to advanced readers or parents of younger children. Readers will appreciate the book's thorough index, as well as the topic-specific and audience-specific lists of books it provides. For the true dinosaur aficionados, guidance is given about paleontology as a career path. This is an exceptional resource on an engaging topic.

Children's Literature
Succinct, well-researched answers, photos and a Further Resource section make this exactly what it says, 'a smart reference.'

Dig: The Archaeology Magazine for Kids
Ideal for readers of all ages and examining scientific history and wonders with a set of commonly asked facts and figures.

Midwest Book Review
This collection of questions and answers about dinosaurs lends itself to finding specific information in short sections. It will fascinate and motivate readers. An excellent source of fundamental knowledge about an interesting subject.

National Science Teachers Association
[D]inophiles willing to sift through the text armed with said dictionary will find a lot to satisfy them, including the last chapter, which leads to information on digs, excavation techniques, equipment, fossil preparation, and educational requirements.... Many small photographs and computer-generated images and some reproductions are scattered throughout, as are information boxes expounding on more common questions. A serious, often scholarly examination of a fascinating topic.

School Library Journal
The student who simply cannot find enough information about dinosaurs will be delighted with this book that has an amazing wealth of information about dinosaurs. It is really a comprehensive study of dinosaurs, even if the format is asking simple questions. The colorful illustrations and lively text provide great browsing for students interested in dinosaurs.

Voya Reviews
Excellently-designed. The style is always clear, somewhat condensed, and, fortunately, not oversimplified. A helpful and enjoyable gift to all amateurs and undergraduate students, who are interested in dinosaurs.

Zentralblatt für Geologie und Paläontologie
This fun-filled fact-book provides a wealth of information on the lives and habits of these astonishing creatures.
From Tyrannosaurs to Stegosaurs, the guide profiles numerous species, chronicling their time on Earth and exploring their roles in archaeological expeditions and museums today.
Delightful and intriguing, this comprehensive record includes the debates still surrounding the origins and fate of these creatures that dominated our planet for millions of years but seemed to disappear in the blink of an eye.
The Handy Dinosaur Answer Book, Second Edition, unearths answers to over 600 commonly asked (and just plain interesting) dinosaur questions such as ?
What is a dinosaur?
Where are extremely large dinosaur bones being found and why?
Did some dinosaurs have self-sharpening teeth?
Where and what is the Dinosaur Freeway?

E-mail to a Friend
Quick Facts
ISBN: 9781578592180
PDF ISBN: 9781578592784
Kindle ISBN: 9781578593255
ePUB ISBN: 9781578593262
288 pages in color
100 illustrations
6.8 x 9.7 paperback
$34.95
Prehistoric and Science
Related Titles
You might also enjoy...
Also by Patricia Barnes-Svarney...
Also by Thomas E Svarney...
---
---