The Handy Psychology Answer Book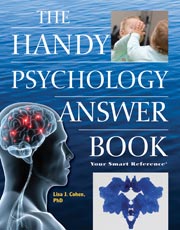 Aiming this compendium at a broad audience, from general readers to individuals requiring a supplemental course book, Cohen offers an overview of psychology.

BookNews
Bridges the divide between the pop psychology discussed on television talk shows and in magazines, which is often driven more by the entertainment value of the topics than the science behind them, and academic research that is published in journals, in language that is inaccessible to the average person. Highly recommended.

Choice
By introducing fun facts with history of psychology, as well as answering questions on how psychology applies to everyday issues, Dr. Cohen delivers a fascinating guide to a general audience. Recommended.

Christian Library Journal
Using language a cut above today's on-air pop psychology but mercifully free of jargon, The Handy Psychology Answer Book uses knowledge gained from psychology to answer these and nearly 1,000 other questions.

Einstein Magazine
This title intends to provide a rigorous scientific look at psychology that is practical, accessible, and engaging to general readers. Solid, affordable ... for readers with a general interest in psychology.

Library Journal
A field guide to psychology! Move over Dr. Phil and Dr. Laura and make way for the "serious science" of psychology. This book brings a scientific perspective to psychology but at the same time presents the life questions and our responses to them in a way that is understandable.

National Science Teachers Association Recommends
Any novice in the study of the human mind would be hard pressed to find a more thorough assortment of succinct questions and answers than those found in The Handy Psychology Answer Book.

psychcentral.com
Dr. Cohen, a licensed clinical psychologist and associate professor of clinical psychology has written more than 70 articles in professional journals and 14 book chapters, and in writing this guidebook, she has excelled in explaining human behavior. Rating: Highly Recommended.

South Sound Book Review Council
The book excels in explaining human behavior. Whether it be the beginner student with an interest in psychology or the well-experienced psychiatrist, anyone is sure to find something intriguing. Dr. Cohen succeeds in her mission of advancing the accessibility of psychology.

The Residents' Journal
If you are looking for a comprehensive guide to the world of psychology, look no further. The author provides more than one thousand answers to questions regarding the psychology of relationships, economics, group dynamics, criminal behavior, and more.

Voya Reviews
Famous psychologists -- Freud, Jung, Adler, Erickson -- were once known to almost everyone and there was a time that basic psychological ideas permeated the popular culture.
Ever since then, psychology has become either all entertainment with little substance or pure substance but dryly academic. This book incorporates the best of both approaches. It provides real substance in an accessible, engaging and entertaining way.
Featuring more than 800 answers to questions of how the human mind and the science of psychology really work, this fascinating discussion gives you the real facts of modern psychology along with fun factoids and thought provoking insights into what motivates our behavior.
The Handy Psychology Book covers the fundamentals of psychology, the history of psychology, plus the psychology of money, sex, morality and everyday living. This intriguing exploration gives insight into the current science of the mind by answering questions such as What makes a marriage last? Why do toddlers have temper tantrums? and Are people happier in wealthier countries?

E-mail to a Friend
Quick Facts
ISBN: 9781578592234
PDF ISBN: 9781578593521
Kindle ISBN: 9781578593538
ePUB ISBN: 9781578593545
Published 2011
512 pages
100 photos and illustrations
Illustrated
7.25" x 9.25" paperback
$21.95 ($24.95 Can.)
History, Psychology and Science
Related Titles
You might also enjoy...
Author Websites
---
---