Similes Dictionary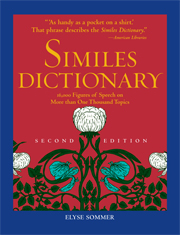 For writers, speakers, and general readers, 16,000 similes drawn from sources as diverse as the Bible, Socrates, Shakespeare, Mark Twain, H.L. Mencken, movies, music, and TV shows, and arranged into about 1,300 thematic categories.

Book News
If this book could speak, it would be "a grand rolling voice, like the sound of an underground train in the distance." This dictionary is chock-full of this and 16,000 other creative entries. A good tool for writers, students, and those looking for inspiration.

Booklist
Designed as a thesaurus for writers and speakers, the second edition of this phrase book fulfills its purpose admirably. Readers may use the Similes Dictionary to provide examples of similes; to find a specific simile, or one by a particular author; or to while away an enjoyable evening. The low price makes this title "as cheap as pearls are costly" (Robert Browning). It is a worthy addition to reference collections. Recommended.

Choice
a useful tool for writers, public speakers, and those who just need an occasional creative communication spark.

Christian Library Journal
... a solid addition to a library's collection ... Of interest to puzzle-solvers, authors and speechwriters.

Library Journal
A sentence should read as if its author, had he held a plough instead of a pen, could have drawn a furrow deep and straight to the end.
—Henry David Thoreau
Prose consists of … phrases tacked together like the sections of a prefabricated hen-house. —George Orwell
Whether it invokes hard work or merely a hen-house, a good simile is like a good picture—it's worth a thousand words. Packed with more than 16,000 imaginative, colorful phrases—from "abandoned as a used Kleenex" to "quiet as an eel swimming in oil"—the Similes Dictionary will help any politician, writer, or lover of language find just the right saying, be it original or banal, verbose or succinct. Your thoughts will never be "as tedious as a twice-told tale" or "dry as the Congressional Record." Choose from elegant turns of phrases "as useful as a Swiss army knife" and "varied as expressions of the human face".
Citing more than 2,000 sources—from the Bible, Socrates, Shakespeare, Mark Twain, and H. L. Mencken to popular movies, music, and television shows—the Similes Dictionary covers hundreds of subjects broken into thematic categories that include topics such as virtue, anger, age, ambition, importance, and youth, helping you find the fitting phrase quickly and easily.
Perfect for setting the atmosphere, making a point, or helping spin a tale with economy, intelligence, and ingenuity, the vivid comparisons found in this collection will inspire anyone.
'Love comforteth like sunshine after rain. – William Shakespeare
A face like a bucket – Raymond Chandler
A man with little learning is like the frog who thinks its puddle a great sea. – Burmese proverb
Peace, like charity, begins at home – Franklin Delano Roosevelt
You know a dream is like a river ever changing as it flows. – Garth Brooks
Fit as a fiddle – John Ray's Proverbs
He's not to be allowed to fall into his grave like an old dog. – Arthur Miller
Ring true, like good china. – Sylvia Plath
Music yearning like a God in pain – John Keats
Busy as a one-legged man in an ass-kicking contest. – Pat Conroy
Enduring as mother love – Anonymous

For more similes, visit the author's blog.

E-mail to a Friend
Quick Facts
ISBN: 9781578594337
PDF ISBN: 9781578594689
Kindle ISBN: 9781578594702
ePUB ISBN: 9781578594696
640 pages
$59.95
General Reference and Word Books
Related Titles
You might also enjoy...
Also by Elyse Sommer...
Author Websites
---
---