The Handy Boston Answer Book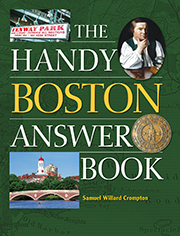 The person on your gift list with the most wanderlust ... look for The Handy Boston Answer Book by Samuel Willard Crompton.

Bookworm Sez
… presents the rich history and trivia book on the city of Boston, Massachusetts. …

Protoview Book News
Whether it's called Beantown, The Olde Towne, Titletown, The Cradle of Liberty, The Athens of America, The Puritan City, The City on a Hill, or any of its other obscure or oft-repeated nicknames, Boston has a long and varied history.
Its universities and hospitals lead the nation, and its sports teams, politicians, and colloquialisms continue to captivate. Exploring this city's fascinating history, people, myths, culture, and trivia, The Handy Boston Answer Book takes an in-depth look at one of America's oldest major cities.

Learn about the city's founding by Puritan settlers, the Boston Massacre, the Great Fire, the opening of the T, the busing desegregation strife, the Big Dig, the local sports fanatics, ethnic enclaves, and the surrounding suburbs, notable sons and daughters, and more are all packed into this comprehensive guide to the city of Boston. Through facts, stats, and history, as well as the unusual and quirky, it answers 1,200 fascinating questions, including What cities and towns comprise the "Greater Boston" region? What do Samuel Adams, James Taylor, Benjamin Franklin, and Taylor Schilling have in common? Are "Tonics" and "Whoopie Pies" available at most "Spas"? What do the colored lights on top of the old Hancock signal?



E-mail to a Friend
Quick Facts
ISBN: 9781578595938
PDF ISBN: 9781578596164
Kindle ISBN: 9781578596188
ePUB ISBN: 9781578596171
432 pages
150 photos and illustrations
7-1/8 x 9-1/4 paperback
$21.95
Related Titles
You might also enjoy...
Also by Samuel Willard Crompton...
---
---