The Handy New York City Answer Book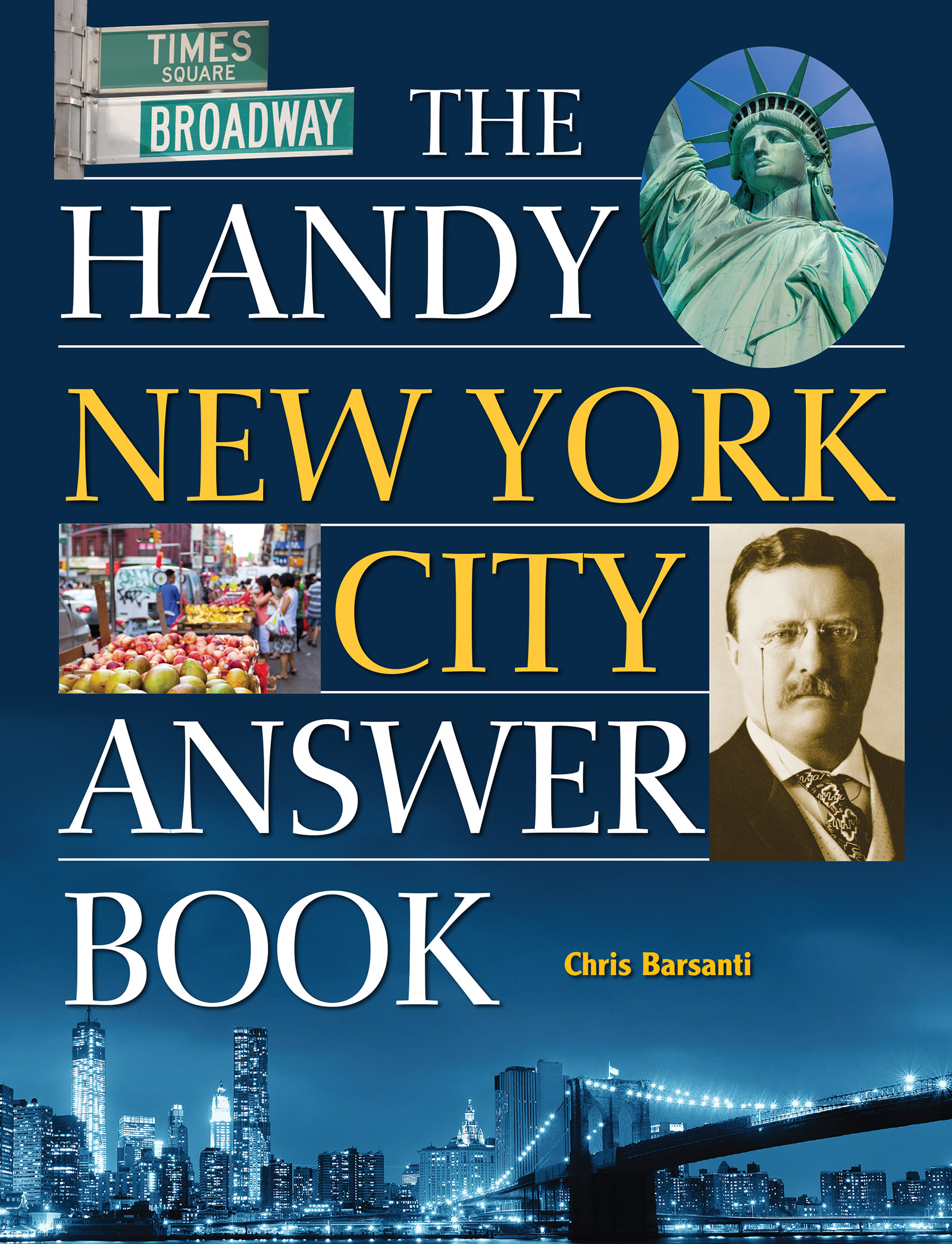 "The Handy New York City Answer Book" by Chris Barsanti, which will explain (almost) everything you ever wanted to know about The Big Apple but didn't know who to ask.

Bookworm Sez
… a comprehensive guide to the history and contemporary attractions and neighborhoods of New York City boroughs the Bronx, Manhattan, Queens, Staten Island, and Brooklyn.

Protoview Book News
Students wanting to brush up on all things New York City will want to read this comprehensive guide from this popular question-and-answer series. ...an entertaining overview of one of America's most distinctive cities.

VOYA
New York, New York.
The largest city in the United States. The self-proclaimed capital of the world. The city of Wall Street and commerce. The city of restaurants, cafés, clubs, and bars. Ellis Island, the Statue of Liberty, the Empire State Building, Central Park, the Garment District, Broadway, bridges, bodegas, restaurants, and museums. A melting pot of languages, races, faiths, and beliefs, as well as languages—no other city has welcomed immigrants in such large numbers and for so long a time. The "city that never sleeps" is bustling with people, cultural and sporting events, world-class shopping and high fashion, and other tourist attractions that draw in millions of visitors from all over the world.
The Handy New York City Answer Book
explores the fascinating history, people, myths, culture, and trivia, taking an in-depth look at the city so nice, they named it twice.
Trace the constant transitions and transformations from the original Indigenous peoples and early Dutch settlers to the importance of the port and the population growth through immigration to the consolidation of the boroughs, the building of the subway system and modern skyline, and much more. Tour landmarks from the Brooklyn Bridge to the Rockefeller Center to the 9/11 Memorial. Learn about famous sons and daughters, including Woody Allen, Jay-Z, J.D. Salinger, and Donald Trump. Find answers to more than 850 questions on the people, events, places of interest, and just what breathes life into this crowded city, teeming with people, where anything goes, such as Who were the first New Yorkers? Do coyotes live in New York? Is it true that many ironworkers in New York have traditionally been Indians? How many New Yorkers are foreign-born? How many bridges are there in New York? Why are Manhattan's streets laid out in a grid? What was New York's first skyscraper? When did Times Square become Times Square? What are some of the secrets of Grand Central Terminal? Why is there a windmill on the New York seal? Where and how did the stock market crash of 1929 begin? Why is the Hotel Chelsea so famous? What is the High Line? Where is the world's richest apartment building? Did the Yankees always play in the Bronx? What's the oldest restaurant in New York? Which musical is credited with saving Broadway?

E-mail to a Friend
Quick Facts
ISBN: 9781578595860
PDF ISBN: 9781578596546
Kindle ISBN: 9781578596560
ePUB ISBN: 9781578596553
464 pages
130 photos and illustrations
7-1/8 x 9-1/4 paperback
$21.95
Related Titles
You might also enjoy...
Also by Chris Barsanti...
---
---