The American Women's Almanac: 500 Years of Making History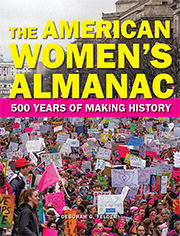 2021 Outstanding Reference Source. A woman just got voted into the Vice President's office, do you know some other hurdles that happened along the way? This book tells those stories, covering from the passage of the XIX Amendment to stories of women both famous and not. Includes pictures and a bibliography.

-American Library Association
"A treasury of influential artists, activists, businesswomen, and historical figures … valuable and affordable resource … will strengthen studies of women's and American history."

Booklist
If you're the type of person who likes light, short reading, try "The American Women's Almanac: 500 Years of Making History" by Deborah G. Felder. This book is full of short biographies of women who changed history, and how they did it. Read it yourself — and share it with your teenager.

Bookworm Sez
Deborah G. Felder does an amazing job of chronicling women in the United States in the past five hundred years … well-research, well-organized volume …

Catholic Library World
★ Starred Review. … honors the contributions of American women throughout the nation's history … A welcome counter to textbooks and encyclopedias that favor the achievements of men … an essential addition to reference or history collections …

Library Journal
… more than 350 biographies, revealing their influence and legacies, from indigenous women to the present, and from the illustrious to lesser lights. …

Protoview Book News
Celebrate the vital roles and vibrant experiences of women in America!
The most complete and affordable single-volume reference on women's history available today, The American Women's Almanac: 500 Years of Vitality, Triumph and Excellence is a unique and valuable resource devoted to illustrating the moving and often lost history of women in America.It is a fascinating mix of biographies, little-known or misunderstood historical facts, enlightening essays on significant legislation and movements, and numerous photographs and illustrations. Honoring and celebrating achievements from the First Nations women and the French Huguenot Women of Fort Caroline to the unprecedented number of ethnically diverse women running for modern office, it provides insights on the long-ignored influence, inspiration, and impact of women on U.S. society and culture.
From the first indigenous women in North America and the dangers and hardships of the 15th, 16th, and 17th century journeys to the New World to the continual push against patriarchal political, military, corporate, and societal systems and expectations, this essential book illustrates the important events and figures surrounding the suffrage movement; literature, art, and music; business leaders and breakthroughs; political history and office holders; advances in science and medicine; and other vital topics. Learn about the Nineteenth Amendment; Title IX; the legalization of birth control in 1966; the dramatic increase in women attending colleges and universities in the United States; the limitations of 19th-century women's fashion on athletes; and so much more.
The most illustrious figures, as well as less-known stars, are revealed in The American Women's Almanac, including Abigail Adams, Louisa May Alcott, Maya Angelou, Susan B. Anthony, Ruth Asawa, Clara Barton, Sara Blakely, Nellie Bly, Tarana Burke, Annie Jump Cannon, Hattie Wyatt Caraway, Carrie Chapman Catt, Bessie Coleman, Rebecca Harding Davis, Maya Deren, Amelia Earhart, Sarah Emma Edmonds, Carly Fiorina, Dian Fossey, Helen Frankenthaler, Aretha Franklin, Temple Grandin, Mia Hamm, Anna Mae Hays, Grace Hopper, Mary Harris "Mother" Jones, Barbara Jordan, Helen Keller, Julie Krone, Juliette Gordon Low, Dolley Madison, Maria Montoya Martinez, Lucretia Mott, Sara Nelson, Lynn Nottage, Sandra Day O'Connor, Pocahontas, Letty Cotton Pogrebin, E. Annie Proulx, Sally Ride, Sacagawea, Bernice Sandler, Margaret Sanger, Elizabeth Ann Seton, Elizabeth Cady Stanton, Gloria Steinem, Lucy Stone, Pat Summitt, Amy Tan, Martha Washington, Randi Weingarten, Gladys West, Susan Wojcicki, Kristi Yamaguchi, and approximately 350 others.
This important reference also has a helpful bibliography, an extensive index, a timeline, and 550 photos, adding to its usefulness. Commemorating and honoring the achievements, people, and essential influence of women in American history, The American Women's Almanac brings to light all there is to admire and discover about these incredible women.

E-mail to a Friend
Quick Facts
ISBN: 9781578596362
eBook ISBN: 9781578597116
608 pages
350 photos and illustrations
7-1/8 x 9-1/4
$49.95
Related Titles
You might also enjoy...
Also by Deborah G Felder...
---
---