Trailblazing Women! Amazing Americans Who Made History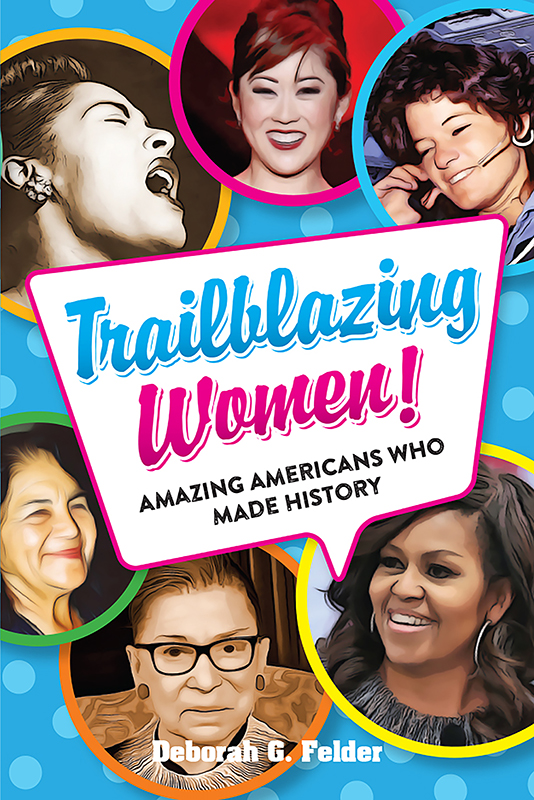 … the combination of the current and historical, famous and lesser-known figures, gives this collection its punch. … excellent resource that provides lists for further research, and will interest young people in women's history.

Booklist
While many of the women included in the book remain famous today, some are now far less well known than their achievements warrant …. Trailblazing Women! Amazing Americans Who Made History provides really interesting and insightful accounts of the lives and works of some truly extraordinary women …

Portland Book Review
… profiles important American women active in the 19th century through the present, from various fields of science, activism, art, literature, media, sports, law, government, medicine, politics, and the military.

Protoview Book News
… meet the women who have made and changed history, contributed revolutionary new ideas and moved science forward … covers the lasting legacies of well-known and lesser-known stars …

SirReadALot.org
Impressive!
Innovative! Influential! Discover and celebrate the amazing stories and achievements of 120 of America's most inspiring women!
Women have accomplished incredible things throughout American history. They've made and changed history. They've contributed revolutionary new ideas and moved science forward. Their inventions, businesses, literature, art, and activism helped build the nation. They've succeeded in a whole host of professions, including media, medicine, politics, government, education, sports, and the military. Trailblazing Women! Amazing Americans Who Made History shines a welcome light on some of America's most remarkable women and their enduring stories and amazing accomplishments.
This fun and fascinating read covers the long history of America's heroic women. It brings you the biographies of some of America's boldest and bravest. Read about obstacles they overcame and how they flourished. It covers the lasting legacies of well-known and lesser-known stars, including Jane Addams, Louisa May Alcott, Marian Anderson, Susan B. Anthony, Lucille Ball, Florence Bascom, Margaret Bourke-White, Gwendolyn Brooks, Pearl. S. Buck, Mary Cassatt, Julia Child, Shirley Chisholm, Joan Ganz Cooney, Anna Julia Cooper, Barbara Corcoran, Katherine Dunham, Amelia Earhart, Gertrude Elion, Peggy Fleming, Ruth Bader Ginsburg, Maria Goeppert-Mayer, Martha Graham, Temple Grandin, Carol W. Greider, Fannie Lou Hamer, Mia Hamm, Kamala Harris, Katharine Hepburn, Billie Holiday, Bell hooks, Shirley Ann Jackson, Mae Jemison, Lois Mailou Jones, Mary Harris "Mother" Jones, Barbara Jordan, Helen Keller, Coretta Scott King, Juanita Kreps, Emma Lazarus, Maya Lin, Eleanor Josephine MacDonald, Dolley Madison, Margaret Mead, Toni Morrison, Carry Nation, Michelle Obama, Sandra Day O'Connor, Georgia O'Keeffe, Jacqueline Kennedy Onassis, Rosa Parks, Nancy Pelosi, Mary Lou Retton, Condoleezza Rice, Sally Ride, Eleanor Roosevelt, Ileana Ros-Lehtinen, Sacagawea, Deborah Sampson, Margaret Sanger, Gloria Steinem, Harriet Beecher Stowe, Maria Tallchief, Amy Tan, Harriet Tubman, Karen Uhlenbeck, Madame C. J. Walker, Barbara Walters, Ida B. Wells-Barnett, Phillis Wheatley, Laura Ingalls Wilder, Oprah Winfrey, Sarah Winnemucca, Chien-Shiung Wu, Rosalyn Yalow, Kristi Yamaguchi, Babe Didrikson Zaharias and many more.
America has had more than its share of amazing women. The influence, inspiration, and impact of women on U.S. society and culture cannot be ignored. Explore the vital roles and vibrant experiences of some of the most impressive women in American history with Trailblazing Women! Amazing Americans Who Made History. It brings to light all there is to admire and discover about these extraordinary women.

E-mail to a Friend
Quick Facts
ISBN: 9781578597291
eBook ISBN: 9781578597574
256 pages
120 photos and illustrations
6 x 9 paperback
$19.95
Related Titles
You might also enjoy...
Also by Deborah G Felder...
---
---