Assassinations: The Plots, Politics, and Powers behind History-changing Murders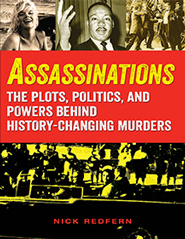 Celebrity deaths, notorious murders, and unexplained alien encounters are not just the stuff of tabloids … Allowing for uncertainty in some of the tales he relates, Redfern cites sources for further exploration, leaving opportunity for readers, especially fans of true crime and conspiracy theories, to judge for themselves.

Booklist
Here's one to whet your True Crime whistle: "Assassinations: The Plots, Politics, and powers Behind History-Changing Murders" by Nick Redfern. The title says it all ... except "you'll like it."

Bookworm Sez
… examines conspiracies related to assassinations, mysterious deaths, accidents, and suicides of individuals like Marilyn Monroe, John F. Kennedy, James Forrestal, Danny Casolaro, Princess Diana, John Lennon, Martin Luther King, Jr., Abraham Lincoln, Robert F. Kennedy, and many others …

Protoview Book News
Readers will find it all in Assassinations: the deluded fools looking for fame and the conned suckers framed by sinister powers. Exposed are the hidden interests behind the slayings in this deep dive into high stakes killings and conspiracies.

SirReadALot.org
A deep dive into high stakes killings, conspiracies and crimes!
Ruthless killers and murderers for hire: they are here, there, and everywhere.They lurk in the shadows, ready to pounce. They terminate on command. And, in the process, they change the course of the world. They are among the world's most cold-hearted, deadly, and emotionless figures. They are assassins, and they have a long history of grievous deeds.
From the cunning, calculating, government-trained warriors to the psychopathic, homegrown freelancers, you can find them all in Assassinations: The Plots, Politics, and Powers behind History-changing Murders. Exposed are the hidden agendas as well as the open warfare. The cynical preparations and devastating aftermaths are laid bare. You will quickly find yourself immersed in a world that is filled with killings made to seem like suicides, murders that were designed to look like heart attacks or overdoses, and accidents that, in reality, were carefully orchestrated deaths.
Did Lee Harvey Oswald really kill JFK? Or was Oswald the patsy he claimed to be?
Was Jack the Ripper, who terrified London in 1888, a madman or a ruthless secret agent of the British government?
Did the United States' first secretary of defense, James Forrestal, kill himself, or was he thrown out of a window to his death in May 1949?
Did Marilyn Monroe take her own life in August 1962? Was a contract put out on her?
What led to the demise of Danny Casolaro, an investigative journalist who, at the time of his death in 1991, was investigating a powerful cabal known as "The Octopus"?
Was Diana, Princess of Wales, the victim of a car accident or of a carefully orchestrated plot?
Can sound waves and microwaves kill people at the flick of a switch?
Was John Lennon's murder not at all what it appeared to be?

These questions and many more are answered in Assassinations, the book that looks into how and why so many famous and influential figures just had to go. With more than 120 photos and graphics, this tome is richly illustrated. Its helpful bibliography and extensive index add to its usefulness.

E-mail to a Friend
Quick Facts
ISBN: 9781578596904
eBook ISBN: 9781578597147
448 pages
130 photos and illustrations
7-1/8 x 9-1/4 paperback
$29.95
Related Titles
You might also enjoy...
Also by Nick Redfern...
---
---