The Big Book of Facts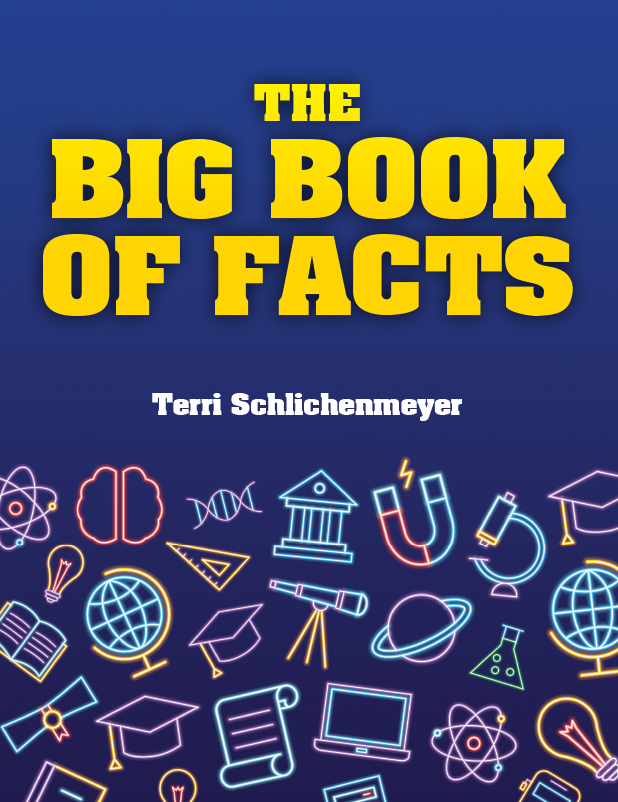 … a book of facts and stories in various areas of history and science, focusing on American history, animals, British history, Canadian history, culture, general history, history makers, world culture, biology, botany, chemistry, the environment, general science, math, physics, space, and technology.

Protoview Book News
Informative and Fun!
Trivial and Important!
From astonishing, amazing, and surprising science and history accounts to the little-known details hidden inside bigger science and history events, The Big Book of Facts is a treat of entertaining, educational, and informative facts and stories.
Take a fascinating tour through the human body, the environment, atomic physics, and technology, then browse unusual factoids from social, political, and cultural history. Learn about the world through absorbing stories and interesting tidbits such as …
A basic and quick history of cash in America, including Alexander Hamilton and the Bank of the United States, Benjamin Franklin's efforts to thwart counterfeiting, and $100,000 bills.
Like fingerprints, every tongue on Earth has a unique print.
The U.S. Postal Service's history, the Pony Express, … and the short-lived (but legal) practice of mailing children.
What is a black hole, what would happen if you fell into a black hole or found yourself in a space vacuum?
The history of children's games such as hide-and-seek, blindman's bluff, and jacks that date back to the ancient Greeks and Romans.
The prevalence of handwashing through history, the invention of toilet paper in the 1400s, and Sir John Harington's invention of the flushable toilet for Queen Elizabeth I.
An absorbing guide to history and science, this feast of facts and compelling stories recounts the discoveries, inventions, and cultural oddities that continue to influence our world today. Engrossing, engaging, and enlightening, The Big Book of Facts will amuse, surprise, and titillate you with the often bizarre and intriguing worlds of science and history you never learned about in school!

E-mail to a Friend
Quick Facts
ISBN: 9781578597208
eBook ISBN: 9781578597567
Published 2022
400 pages
140 photos and illustrations
$19.95
Related Titles
You might also enjoy...
Also by Terri Schlichenmeyer...
---
---