Latino Almanac: From Early Explorers to Corporate Leaders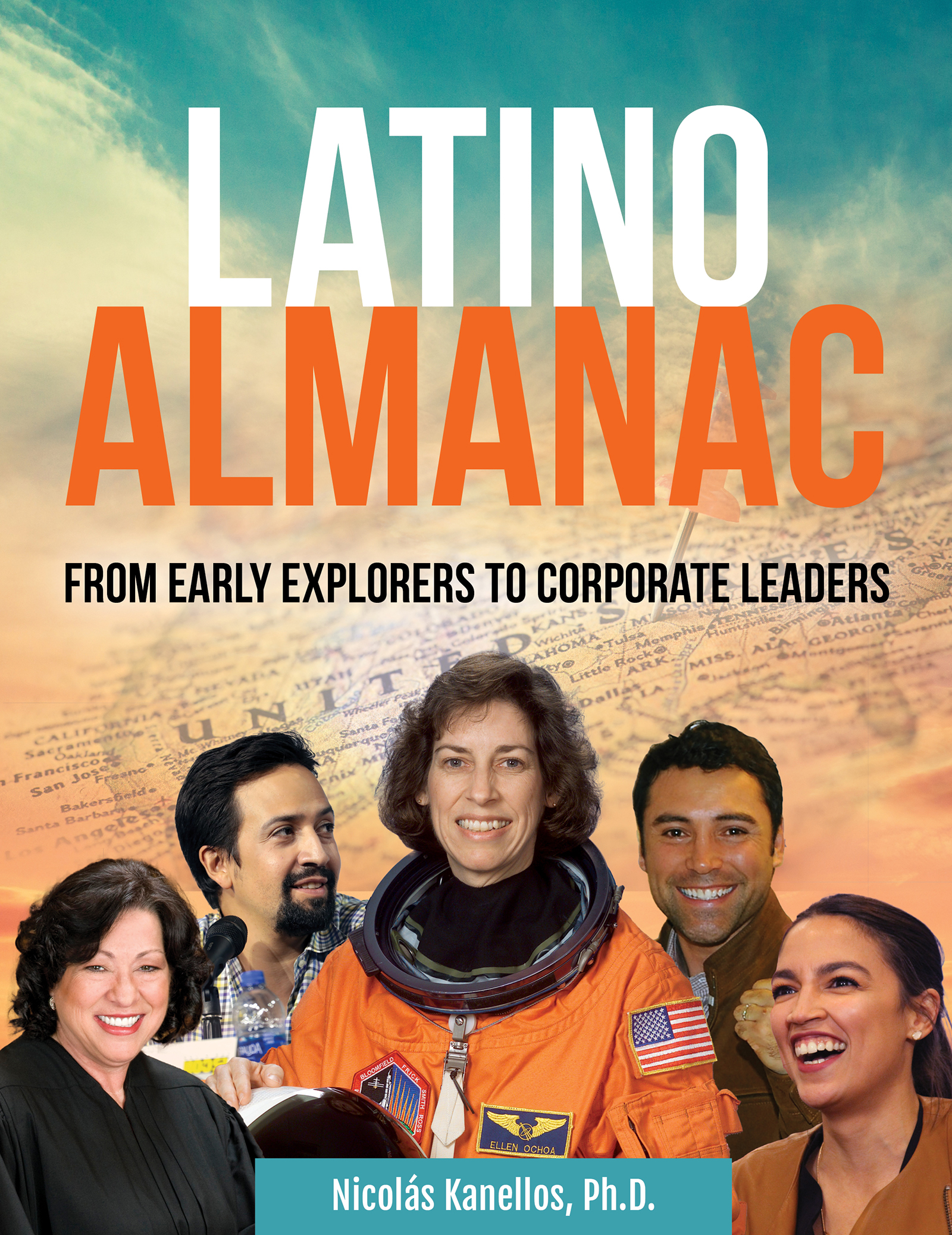 … profiles about 650 key figures in Latino history in the US and details their achievements … an introduction to Latinos in the US and a historical overview of the major Latino groups in the country.

Book News
… thorough yet approachable resource … accurate and insightful information to counter common prejudices and misinformation. … Aimed at students as well as the general reader, this volume is recommended …a welcome entry point to understanding a vibrant ingredient of American life.

Booklist
… covers 14 categories, including history, business, politics, religion, the military, science, various arts, and sports. … a valuable starting point for research on Latinos in the United States, who are united but diverse in multiple ways. … this wide-ranging, clearly written volume will help researchers understand the past, present, and potential future of Latinos in the United States.

Library Journal
A celebration of people and pride!
Explore the achievements and contributions of Latinos in the United States with this illuminating history.
Whether calling themselves Latino, Latinx, Hispanic, Chicano, or something else, Latinos in the United States are a mix of people and multiple identities, each unique, varied, and accomplished. Beginning with the Spanish explorers in the sixteenth century, Latinos have been an important part of American society. They've fought the Revolutionary War, the Civil War, and all wars in between and since, and in the last decade, their businesses have grown at twice the pace of the overall U.S. economy.
The most complete and affordable single-volume reference on Latino history available today, Latino Almanac: From Columbus to Corporate America honors the history and the impact of Latinos on the United States. This hefty tome is a fascinating mix of biographies, little-known or misunderstood historical facts, and enlightening essays on significant legislation, movements, current issues, and achievements across a variety of fields, including business, labor, politics, the military, music, sports, law, media, religion, art, literature, theater, film, science, technology, and medicine. A large collection of 650 biographies includes both celebrated and lesser-known Latino stars, such as
Dolores Fernández Huerta, labor leader
Sonia Sotomayor, Supreme Court justice
Juan Felipe Herrera, U.S. poet laureate
Roberto C. Goizueta, businessperson, former CEO of Coca-Cola
Selena Gómez, actor, singer, producer
Rebecca Lobo, basketball player, sports analyst
Anthony D. Romero, executive director of the American Civil Liberties Union
Alexandria Ocasio-Cortez, U.S. congressperson
Ellen Ochoa, astronaut, engineer
Anthony R. Jiménez, entrepreneur
María Hinojosa, journalist
Dennis Chávez, U.S. senator
Oscar Muñoz, businessperson, CEO United Airlines
Antonia Novello, surgeon general of the United States
Geraldo Miguel Rivera, journalist
Lin-Manuel Miranda, playwright, actor, director
Alex Rodríguez, baseball player
Rodolfo Anaya, novelist
Desi Arnaz, television producer, actor, singer
Jessica Mendoza, sportscaster, softball player
Nydia Velásquez, U.S. congressperson
Edward James Olmos, actor
Marco Rubio, U.S. senator
Rita Moreno, actor, dancer
César Chávez, labor leader
Marcelo Claure, businessperson, former Sprint CEO
Ariel Dorfman, playwright, novelist
Miriam Colón, actress, theater owner, producer
Joaquín Castro, chair of the Hispanic Congressional Caucus
And many, many more!

While Latinos are among both the original and newest immigrants, today the majority of U.S. Latinos were born here and most speak English—although most are bilingual to one degree or another. Their influence on the economy and culture continues to increase. Their impact on the United States has been wide-ranging. Salsa has even overtaken ketchup to become the most popular condiment in the United States! Devoted to illustrating the moving and often lost history of Latinos in America, Latino Almanacis a unique and valuable resource. Numerous photographs and illustrations, a helpful, bibliography, timeline, and an extensive index add to its usefulness. Commemorating and honoring Latino achievements, honors, and influence, this important book brings to light all there is to admire and discover about Latino Americans!

E-mail to a Friend
Quick Facts
ISBN: 9781578596119
eBook ISBN: 9781578597536
Published August 2022
560 pages
200 photos and illustrations
7-1/8 x 9-1/4"
$32.95
Related Titles
You might also enjoy...
---
---