Freedom Facts and Firsts: 400 Years of the African American Civil Rights Experience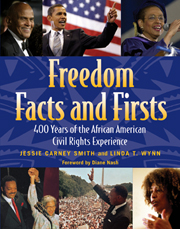 Written in a vivid and accessible style, this encyclopedia is highly recommended for high school, public, and community college libraries, where it will serve students well. Recent encyclopedias of African American history are usually scholarly, pricey multivolume sets. This, on the other hand, is an inexpensive and unique effort that does equally well in libraries as it does in bookstores.

Library Journal
"Freedom Facts and Firsts: 400 Years of the African American Civil Rights Experience" is an amazing compilation of facts and stories about the lives and times of African Americans in the past four centuries.

Midwest Book Review
"Freedom Facts and Firsts" is a valuable encyclopedic work covering the Black experience in the United States from 1619, when Africans were brought to Jamestown, Va., as "involuntary laborers," through the Civil Rights Movement and to the ascendancy of Barack Obama, the country's first African-American president."

Newark (NJ) Star Ledger
An important addition to Black History Month booklists. From the early abolitionists to the presidential nomination of Barack Obama, the authors have gathered easy-to-read articles on the essential people, places, and events of the black struggle for freedom.

School Library Journal
Hundreds of entries describe in detail the important people, dates, events, and places of the African American experience. This reference work is very beneficial to students completing research and useful for all ages.

VOYA
Spanning nearly 400 years from the early abolitionists to the present, this guide book profiles more than 400 people, places, and events that have shaped the history of the black struggle for freedom.
Coverage includes information on such mainstay figures as Martin Luther King, Jr., Malcolm X, and Rosa Parks, but also delves into how lesser known figures contributed to and shaped the history of civil rights. Learn how the Housewives' League of Detroit started a nationwide movement to support black businesses, helping many to survive the depression; or discover what effect sports journalist Samuel Harold Lacy had on Jackie Robinson's historic entrance into the major leagues. This comprehensive resource chronicles the breadth and passion of an entire people's quest for freedom.

E-mail to a Friend
Quick Facts
ISBN: 9781578591923
PDF ISBN: 9781578592319
Kindle ISBN: 9781578592432
ePUB ISBN: 9781578592609
400 pages
100 photos and illustrations
7.25" x 9.25" paperback
$39.95
Related Titles
You might also enjoy...
Also by Jessie Carney Smith, Ph.D....
---
---