Personal Finance Tip of the Day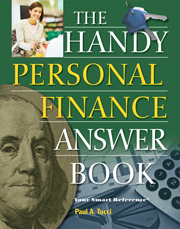 ---
When did the first banks come into existence?
They may have existed in temples.
They were thought to store farmers' surpluses.
They had one of the earliest form of money.
Many scholars date them at 3000 years

b.c.e.
---
---
Around 3000
b.c.e.
, according to many scholars, some of the first banks may have been inside of temples, used for both religious ceremonies and the storage of agricultural products, like wheat and other grains. Farmers would deposit their supply at the temple, and were given a receipt for the amount of product that they deposited. It is thought that this receipt was of value, and would most likely be the earliest form of money used in trade.
From The Handy Personal Finance Answer Book by Paul A. Tucci, (c) 2012 Visible Ink Press(R) Answers to more than 1,000 answers to questions on personal finance, its history, and managing one's financial life.
Dig deeper with these related titles:
---