The Handy Law Answer Book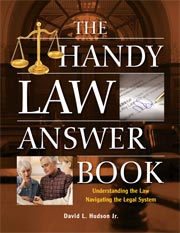 Recommended for libraries and individuals who need an economically priced introduction to American legalese.

Booklist
For anyone who wants to know more about coping with our court system, credit and bankruptcy law, employment law, family law, or personal injury law, Hudson has written an excellent guide that I highly recommend. Written in a way that is easy to understand, it will arm any reader with the knowledge of what to do in a wide variety of situations and what to expect.

Bookviews by Alan Caruba
The author is well-qualified. Overall, The Handy Law Answer Book does a nice job of introducing readers to the rules that govern our society and the practice of law. It is probably most useful as a general reference tool for those with a strong interest in history, government, politics, or legal studies.

Christian Library Journal
Using a question and brief answer format, this book answers every conceivable law query. The most potentially useful chapters focus on lawyers, lawsuits, criminal procedures, and credit and bankruptcy laws. Any reader with a legal issue will feel confident after learning the legalese that could be encountered in the court system

VOYA
How many times have you slapped yourself on the forehead and said, "Wish I knew the law pertaining to my credit information!" Yeah, me neither. But when you really do need to know something about the law, a new reference book, "The Handy Law Answer Book" by David L. Hudson Jr., is just the ticket. . . . While not a substitute for a good attorney, "The Handy Law Answer Book" is a good source of basic information concerning the law and has a good appendix of online resources, a glossary of common legal terms. . . . I, for one, hope this is the first of a continuing series of explanatory law books for the layman and that Hudson has plans for future reference books along this line.

Wichita Falls Times Record News
A legal primer answering hundreds of questions related to the history and practice of law in the United States .
. .
Combining practical legal tips with an exhaustive overview of the law in the United States, this comprehensive reference answers more than 1,200 questions ranging from "Where did the word tort come from?" and "How are state court judges selected?" to "Where did the first U.S. Supreme Court meet?" Useful advice includes how to find a lawyer; how to file a complaint against a lawyer; how to document discrimination in the workplace; and how to handle oneself in court.
Interspersed throughout are fun sidebars highlighting important cases and explanations of legal terms as well as entertaining information on bizarre and frivolous lawsuits, including one where a prisoner in Colorado sued prison officials after he injured himself during an escape attempt.
With a wide range of information suitable for various knowledge bases--from junior high to junior college--this is an ideal source for anyone looking to get a better understanding of the law.

E-mail to a Friend
Quick Facts
ISBN: 9781578592173
PDF ISBN: 9781578593354
Kindle ISBN: 9781578593361
ePUB ISBN: 9781578593378
432 pages
100 photos and illustrations
7.25 x 9.25 paperback
$29.95
Law
Related Titles
You might also enjoy...
Also by David L Hudson, Jr....
---
---