Personal Finance Tip of the Day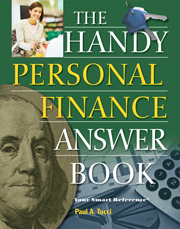 ---
What is an IRA, and how many types of IRAs are there?
It was created in 1974.
It was created by an act of Congress to provide retirees with income security.
It comes in types such as Traditional, Roth, and Simple.
---
---
An IRA or Individual Retirement Account was created in 1974, under an act of Congress called the Employee Retirement Income Security Act (ERISA), which gives individuals who do not have access to an employer sponsored retirement plan the means to having one, and gives individuals the ability to preserve their tax advantages and growth opportunities of having a retirement plan when they leave their job.
There are five different IRAs: Traditional; Roth; Simplified Employee Pension plan (SEP); Reduction Simplified Employee pension plan (SAR-SEP); and Simple.
From The
Handy Personal Finance Answer Book
by Paul A. Tucci, (c) 2012 Visible Ink Press(R) Answers to more than 1,000 answers to questions on personal finance, its history, and managing one's financial life.
Dig deeper with these related titles:
---