Personal Finance Tip of the Day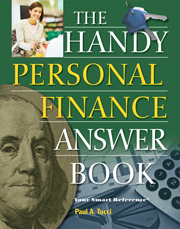 ---
What tax advantages are there to home ownership?
It makes interest on mortgages tax-free.
It saves money in taxes on the gain in value of a home.
It allows property taxes to be deductible.
---
---
One of the great benefits of home ownership is the tax shielding aspect of having a mortgage. Essentially, the government allows you to deduct or not count the amount of mortgage interest you pay in one year against your income for that year. Another sizable advantage, and one of the principle benefits of home ownership, is that up to a certain value ($500,000 for a married couple), you do not have to pay taxes on the gain in value of your house. You may also deduct your property taxes when you file your income taxes, if you itemize deductions.
From The Handy Personal Finance Answer Book by Paul A. Tucci, (c) 2012 Visible Ink Press(R) Answers to more than 1,000 answers to questions on personal finance, its history, and managing one's financial life.
Dig deeper with these related titles:
---