Personal Finance Tip of the Day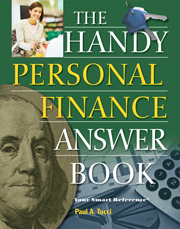 ---
How does medical insurance work, and how do I get health insurance?
Insurance companies set costs for treatments.
The insurer pays the difference between the company's price and the doctor's price.
Employers usually provide it.
---
---
When you visit a doctor seeking treatment, the price/value for the service that is rendered is established by the insurance company, and the insurance company will pay for that service up to the amount that they have established. If the doctor charges higher than this amount, the insured must pay the difference. If it is less, the insured would get a discount, and may pay less for that service. Each insurance company establishes what types of visits are covered at 100%, 80%, 50%, etc., in your initial policy.
Most Americans obtain medical care coverage through their employers, who offer it as a benefit, in order to attract and keep employees.
From The
Handy Personal Finance Answer Book
by Paul A. Tucci, (c) 2012 Visible Ink Press(R) Answers to more than 1,000 answers to questions on personal finance, its history, and managing one's financial life.
Dig deeper with these related titles:
---