Personal Finance Tip of the Day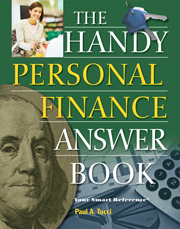 ---
If I notice that someone has stolen my identity, what should I do?
Contact all your credit card companies.
Put holds or fraud alerts on all of your credit accounts.
Notify the credit reporting companies of the identity theft.
File a police report.
---
---
Immediately contact each credit card company that you use, and each bank account, and immediately put a "hold" or "fraud alert" on the account. You may completely close your bank account and open a new one with a new account number, so that you may still have access to cash. You can call the three credit reporting companies (Equifax, Experian, and Transunion) and alert them that you have been a victim of identity theft, and ask them to put a hold on all activity, and credit applications that may be received. You may challenge any item on your credit report that you think is false. Also, file a police report at your local police department, so that they may open an investigation, and perhaps catch the criminal who stole and used your information.
From The Handy Personal Finance Answer Book by Paul A. Tucci, (c) 2012 Visible Ink Press(R) Answers to more than 1,000 answers to questions on personal finance, its history, and managing one's financial life.
Dig deeper with these related titles:
---