Personal Finance Tip of the Day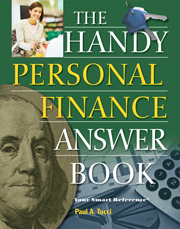 ---
How long should I keep my personal financial records?
It varies based on the document.
The IRS requires six years of records in case of gross error.
It is prudent to save tax documents and other important financial information for six to seven years.
---
---
It really varies. The IRS requires that we retain any proof of any income, deductions or credit claimed for at least three years from the date of a return. The IRS also requires that we keep six years' of records in case we fail to report income that is more than 25% of our gross income in any tax year. If you have ever failed to file a tax return, or filed fraudulently, the IRS can go back as far as they would like, in order to collect what is properly owed. That said, most people agree that keeping six to seven years' of important financial information, like tax returns, W-2s, 1099s, year-end financial account statements showing income earned, and paychecks, is prudent.
From The Handy Personal Finance Answer Book by Paul A. Tucci, (c) 2012 Visible Ink Press(R) Answers to more than 1,000 answers to questions on personal finance, its history, and managing one's financial life.
Dig deeper with these related titles:
---