Personal Finance Tip of the Day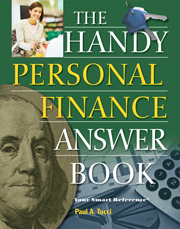 ---
How can I tell a legitimate credit counselor from a fraudulent credit counselor?
Watch out for upfront fees.
Check to see if the counselor is affiliated with or accredited by a national body.
Look out for providers who say their fees are "voluntary."
---
---
If the credit counselor charges an upfront fee for assisting you, this could be a sign of fraud. A legitimate counselor is affiliated with some national body, like the National Foundation for Credit Counseling (NFCC). He or she should also be accredited by some accrediting body. Most legitimate credit counseling service providers are 501 (c) (3) nonprofit community organizations. This means they are not attempting to profit from your situation, and are "more" legitimate than for-profit providers. Also, look out for providers who say their fees are "voluntary". This could be a sign of a scam.
From The Handy Personal Finance Answer Book by Paul A. Tucci, (c) 2012 Visible Ink Press(R) Answers to more than 1,000 answers to questions on personal finance, its history, and managing one's financial life.
Dig deeper with these related titles:
---