African American Hero of the Day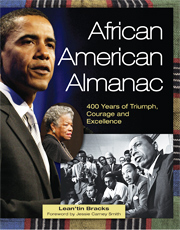 ---
What baseball player broke Babe Ruth's homerun record in 1974?
He played for the Atlanta Braves and the Milwaukee Brewers.
At the end of his career, he had hit 755 home runs.
He hit over .300 for twelve seasons straight.
He was inducted into the Baseball Hall of Fame in 1982 and received a Presidential Medal of Freedom in 2002.
---
---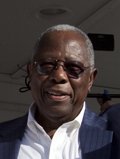 Hank Aaron (1934--)
Baseball Player
Born in Mobile, Alabama, on February 5, 1934, Henry Louis "Hank" Aaron first played sandlot ball as a teenager. He later played for a team called the Black Bears, but soon thereafter signed a $200#per#month contract with the Indianapolis Clowns of the Negro American League.
In June 1952 Aaron was purchased by the Boston Braves. The following season, playing for Jacksonville, his .362 average led the South Atlantic League. This led to a promotion to the Braves, then based in Milwaukee, and the beginning of his brilliant major league career in 1954.
Aaron enjoyed perhaps his finest season in 1957, when he was named Most Valuable Player and led his team to a world championship. His stats that year included a.322 average, 44 homers, 132 runs batted in, and 118 runs scored.
Aaron hit more home runs than anyone else in the history of major league baseball. He attained this plateau with his second home run of the 1974 season, a shot that marked his 715th career round#tripper and thus broke the previous record of 714, which had been held by Babe Ruth. Aaron finished that season with 20 homers and brought his career mark to a total of 733. He completed his career with a total of 755 home runs.
Over his career, Aaron won a pair of batting titles and hit over .300 in twelve seasons. He won the home run and RBI crowns four times apiece, hit forty or more homers eight times, and hit at least twenty for twenty consecutive years--a National League record. In addition, he was named to twenty consecutive all#star teams.
In January 1982 Aaron received 406 of 415 votes from the Baseball Writers Association as he was elected into the Baseball Hall of Fame. Aaron, who was one of the first African Americans in major league baseball was awarded the Presidential Medal of Freedom, the nation's highest civilian award, in 2002.
From African American Almanac: 400 Years of Triumph, Courage and Excellence by Lean'tin Bracks, (c) 2012 Visible Ink Press(R). A wealth of milestones, inspiration, and challenges met . . .
Dig deeper with these related titles:
African American Almanac: 400 Years of Triumph, Courage and Excellence


A wealth of milestones, inspiration, and challenges met. . . The most complete and affordable single-volume reference of African... Read More »

Freedom Facts and Firsts: 400 Years of the African American Civil Rights Experience


Spanning nearly 400 years from the early abolitionists to the present, this guide book profiles more than 400 people, places, and events that have... Read More »

Black Firsts: 4,000 Ground-Breaking and Pioneering Events, 2nd Edition


Black Firsts is a testament to a rich but often overlooked part of our history. Jessie Carney Smith, William and Camille Cosby Professor of the... Read More »

Black Heroes


"If there is no struggle, there is no progress," wrote Frederick Douglass. "This struggle may be a moral one; or it may be a physical one; or it may... Read More »
---