African American Hero of the Day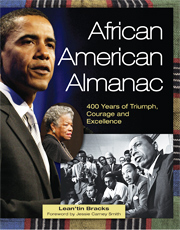 ---
Who founded two schools, a college, and a hospital and later served under President Franklin D. Roosevelt's administration?
She began her career as a teacher and founded her first school in Daytona Beach, Florida.
She was appointed director of the Division of Negro Affairs of the National Youth Administration by FDR, and was an assistant to the U.S. Secretary of War during World War II.
She founded McLeod Hospital in 1911.
The college she founded later merged with the Cookman Institute.
---
---

Mary McLeod Bethune (1875-1955)
Educator, Founder of Bethune-Cookman College
Born on July 10, 1875, in Mayesville, South Carolina, Mary McLeod Bethune received a sporadic education in local schools. She eventually received a scholarship and studied for seven years at the Scotia Seminary in Concord, North Carolina. In 1893 she went on to study at the Moody Bible Institute in Chicago in lieu of a missionary position in Africa. In 1895 she began teaching at the Haines Institute in Augusta, Georgia. Between 1900 and 1904 she taught in Sumter, Georgia and Palatka, Florida.
In 1904 she founded her own school in Daytona Beach, Florida--the Daytona Educational and Industrial School for Negro Girls. John D. Rockefeller became an early admirer and supporter of the school after hearing a performance by its choir. Bethune went on to found the Tomoka Missions and in 1911 the McLeod Hospital. In 1922 her school merged with the Cookman Institute to become Bethune-Cookman College.
Bethune's work received national attention, and she served on two conferences under President Herbert Hoover. In 1936 President Franklin D. Roosevelt appointed her director of the Division of Negro Affairs of the National Youth Administration. During World War II she served as special assistant to the Secretary of War, responsible for selecting Negro WAC officer candidates.
Bethune also served on the executive board of the National Urban League and was a vice president of the NAACP. She received the Spingarn Award in 1935, the Frances A. Drexel Award in 1936, and the Thomas Jefferson Medal in 1942. Bethune was also instrumental in the founding of the National Council of Negro Women. She retired from public life in 1950 on her seventy-fifth birthday and died five years later on May 18, 1955.
Much of Bethune's philosophy involved ennobling labor and empowering African Americans to achieve economic independence. Although a tireless fighter for equality, she eschewed rhetorical militancy in favor of a doctrine of universal love.
From African American Almanac: 400 Years of Triumph, Courage and Excellence by Lean'tin Bracks, (c) 2012 Visible Ink Press(R). A wealth of milestones, inspiration, and challenges met . . .
Dig deeper with these related titles:
African American Almanac: 400 Years of Triumph, Courage and Excellence


A wealth of milestones, inspiration, and challenges met. . . The most complete and affordable single-volume reference of African... Read More »

Freedom Facts and Firsts: 400 Years of the African American Civil Rights Experience


Spanning nearly 400 years from the early abolitionists to the present, this guide book profiles more than 400 people, places, and events that have... Read More »

Black Firsts: 4,000 Ground-Breaking and Pioneering Events, 2nd Edition


Black Firsts is a testament to a rich but often overlooked part of our history. Jessie Carney Smith, William and Camille Cosby Professor of the... Read More »

Black Heroes


"If there is no struggle, there is no progress," wrote Frederick Douglass. "This struggle may be a moral one; or it may be a physical one; or it may... Read More »
---