African American Hero of the Day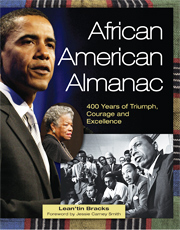 ---
What famous jazz trumpet player once knocked The Beatles off the top of the music charts?
He learned a great deal about jazz when he was taken under the wing of King Oliver.
His original instrument was the cornet, not the trumpet.
His nickname was "Satchmo."
His version of "What a Wonderful World" became a surprise hit in 1988 and still receives a lot of radio play time.
---
---

Louis Armstrong (1901-1971)
Trumpeter
Born in New Orleans, Louisiana, on August 4, 1901, Louis Armstrong was one of the most influential and durable of all jazz artists, and quite simply one of the most famous of the twentieth century.
Armstrong was raised by his mother in the Third Ward section of New Orleans. On New Year's Eve in 1914 Armstrong was arrested in New Orleans for firing a pistol and sent to the Colored Waif's Home. It was there that he first learned to play the cornet. His skill increased with the experience he gained from playing in the Home's band. When he was finally released from the institution, he was already proficient enough with the instrument to begin playing for money.
Befriended by his idol King Oliver, Armstrong quickly began to develop the jazz skills that, until then, he had only been able to admire from a distance. When Oliver left for Chicago in 1919, a place opened up for Armstrong as a member of the Kid Ory and His Creole Jazz Band in New Orleans. In 1922 Oliver asked Armstrong to join him in Chicago as second cornet with his Creole Jazz Band. The duets between "Dippermouth" (as Armstrong was called) and "Papa Joe" (Oliver's nickname) soon became the talk of the Chicago music world.
Two years later Armstrong joined the Fletcher Henderson Band at the Roseland Ballroom in New York City. In 1925 he returned to Chicago to play with Erskine Tate, switching from cornet to trumpet, the instrument he played from then on. During the next four years he made a series of recordings that profoundly influenced the course of jazz. Armstrong recorded the Louis Armstrong's Hot Fives and Hot Sevens, which showcased his skill and technique in swing and in the art of improvisation.
In 1929 Armstrong returned to New York in the revue Hot Chocolates, where he scored his first triumph with the performance of a popular song (Fats Waller's "Ain't Misbehavin'"). This success was a turning point in his career. He now began to front big bands, playing and singing popular songs rather than blues or original instrumentals.
In 1932 Armstrong headlined a show at the London Palladium, where he acquired the nickname "Satchmo." From 1933 to 1935 he toured Europe, returning to the United States to film Pennies from Heaven with Bing Crosby. He continued to evolve from the status of musician to that of entertainer, and his singing soon became as important as his playing. In 1947 he formed a small group that was an immediate success. He continued to work in this context and toured throughout the world.
Armstrong experienced a tremendous success in 1964 with his recording of "Hello Dolly," which knocked the Beatles off the number one spot on the Top 40 list--a great feat in the age of rock. Though his health began to decline, he maintained a heavy schedule of international touring. When he died in his sleep at home in Corona, Queens, two days after his seventieth birthday, he had been preparing to resume work despite a serious heart attack suffered some three months before. "The music--it's my living and my life" was his motto.
Louis Armstrong's fame as an entertainer in the later stages of his extraordinary career sometimes made people forget that he remained a great musician to the end. More than any other artist, Armstrong symbolized the magic of jazz, a musical form unimaginable without his contribution. "You can't play a note on the horn that Louis hasn't already played," said Miles Davis, and contemporary musicians like Wynton Marsalis echo that opinion.
In 1988 after its use in the motion picture Good Morning, Vietnam, Armstrong's recording of "What a Wonderful World" became a surprise hit, climbing to number eleven on the Billboard chart. In 1992 a Louis Armstrong Archive was established at Queens College in New York. It includes his personal papers, private recordings, memorabilia, and instruments.
From African American Almanac: 400 Years of Triumph, Courage and Excellence by Lean'tin Bracks, (c) 2012 Visible Ink Press(R). A wealth of milestones, inspiration, and challenges met . . .
Dig deeper with these related titles:
African American Almanac: 400 Years of Triumph, Courage and Excellence


A wealth of milestones, inspiration, and challenges met. . . The most complete and affordable single-volume reference of African... Read More »

Freedom Facts and Firsts: 400 Years of the African American Civil Rights Experience


Spanning nearly 400 years from the early abolitionists to the present, this guide book profiles more than 400 people, places, and events that have... Read More »

Black Firsts: 4,000 Ground-Breaking and Pioneering Events, 2nd Edition


Black Firsts is a testament to a rich but often overlooked part of our history. Jessie Carney Smith, William and Camille Cosby Professor of the... Read More »

Black Heroes


"If there is no struggle, there is no progress," wrote Frederick Douglass. "This struggle may be a moral one; or it may be a physical one; or it may... Read More »
---