African American Hero of the Day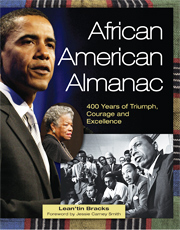 ---
What famous basketball star briefly retired from his team and played minor league baseball before a triumphant return?
He spent his hoops career with the Chicago Bulls.
He scored more than 3,000 points in 1986.
He led the Bulls to their first championship in 1991.
In 1992 he won Olympic gold in Barcelona.
---
---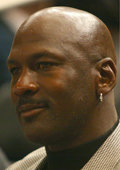 Michael Jordan (1963--)
Basketball Player
Michael Jeffrey Jordan was born in Brooklyn, New York, on February 17, 1963, and attended the University of North Carolina. As a rookie with the Chicago Bulls, Jordan was named to the All#Star team during the 1985 season. A skilled ball-handler and a slam-dunk artist, in 1986 he became the second NBA player in history to score more than 3,000 points in a single season.
Jordan was the NBA's individual scoring champ from 1987 through 1991. He was also named the NBA's most valuable player at the end of the 1987-1988 season. In 1991 Jordan led the Chicago Bulls to their first NBA Championship and was the league's most valuable player. Under Jordan's leadership, the Bulls experienced repeat NBA championships in 1992 and 1993. In the autumn of 1993, Jordan announced his retirement from basketball.
Jordan spent a season in the Minor Baseball League, but returned to the Chicago Bulls in 1995. His return added two more NBA Championships for the Bulls, and Jordan earned his fourth MVP award. On January 13, 1999, Jordan again announced his retirement. He proceeded to produce documentaries, films, and books on his iconic status and his drive for excellence. In 2000 Jordan became part owner of the Washington Wizards. He played for the Wizards briefly but retired for the final time in 2003. His overall game average was at its highest with 30.2 points per game.
In 1992 Jordan played for the United States Olympic Basketball team, which captured the gold medal in Barcelona, Spain. He is the founder of the Michael Jordan Celebrity Golf Classic, which raises funds for the United Negro College Fund. Jordan was named Athlete of the Century by Sport Channel ESPN, and his abilities in marketing products from Jordan basketball shoes to Gatorade has made him a household name.
From African American Almanac: 400 Years of Triumph, Courage and Excellence by Lean'tin Bracks, (c) 2012 Visible Ink Press(R). A wealth of milestones, inspiration, and challenges met . . .
Dig deeper with these related titles:
African American Almanac: 400 Years of Triumph, Courage and Excellence


A wealth of milestones, inspiration, and challenges met. . . The most complete and affordable single-volume reference of African... Read More »

Freedom Facts and Firsts: 400 Years of the African American Civil Rights Experience


Spanning nearly 400 years from the early abolitionists to the present, this guide book profiles more than 400 people, places, and events that have... Read More »

Black Firsts: 4,000 Ground-Breaking and Pioneering Events, 2nd Edition


Black Firsts is a testament to a rich but often overlooked part of our history. Jessie Carney Smith, William and Camille Cosby Professor of the... Read More »

Black Heroes


"If there is no struggle, there is no progress," wrote Frederick Douglass. "This struggle may be a moral one; or it may be a physical one; or it may... Read More »
---