African American Hero of the Day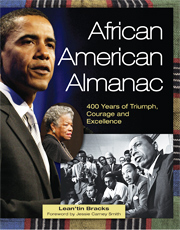 ---
What virtuoso trumpet player is highly respected for his command of everything from classical to jazz and for his insistence on keeping jazz in its pure form and not introducing other elements, such as rock stylizations, into it?
Born in New Orleans, he received training at Juilliard.
He won the first non-classical Pulitzer Prize for his oratorio Blood on the Fields.
He has created collaborations with the New York City Ballet.
He co-founded the Lincoln Center Jazz Ensemble.
---
---
Wynton Marsalis (1961--)
Trumpeter, Bandleader
Born October 18, 1961, into a musical family in New Orleans, Louisiana, (his father, Ellis Marsalis, is a prominent pianist and teacher), Wynton Marsalis was well schooled in both the jazz and classical traditions. At seventeen he won an award at the prestigious Berkshire Music Center for his classical prowess; a year later, he left the Juilliard School of Music to join Art Blakely's Jazz Messengers.
After touring and recording in Japan and the United States with Herbie Hancock, Marsalis made his first album (in 1981), formed his own group, and toured extensively on his own. Soon after, he made a classical album and in 1984 became the first instrumentalist to win simultaneous Grammy Awards as best jazz and best classical soloist. In 1997 he won the first non-classical Pulitzer Prize for his oratorio Blood on the Fields. Marsalis collaborated with the New York City Ballet director and created the works Jazz/Six Syncopated Movements and Jump Start. He also received a great deal of media coverage--more than any other serious young musician in recent history.
A brilliant virtuoso of the trumpet, with total command of any musical situation, Marsalis has made himself a potent spokesperson for the highest musical standards in jazz, to which he is firmly and proudly committed. He has urged young musicians to acquaint themselves with the rich tradition of jazz and to avoid the pitfalls of "crossing over" to pop, fusion, and rock. Adherence to these principles and his stature as a player has made his words effective. He has composed music for films and ballet and is a co-founder of the Lincoln Center Jazz Ensemble. He also teaches in outreach programs for institutions such as the New England Conservatory of Music.
From African American Almanac: 400 Years of Triumph, Courage and Excellence by Lean'tin Bracks, (c) 2012 Visible Ink Press(R). A wealth of milestones, inspiration, and challenges met . . .
Dig deeper with these related titles:
African American Almanac: 400 Years of Triumph, Courage and Excellence


A wealth of milestones, inspiration, and challenges met. . . The most complete and affordable single-volume reference of African... Read More »

Freedom Facts and Firsts: 400 Years of the African American Civil Rights Experience


Spanning nearly 400 years from the early abolitionists to the present, this guide book profiles more than 400 people, places, and events that have... Read More »

Black Firsts: 4,000 Ground-Breaking and Pioneering Events, 2nd Edition


Black Firsts is a testament to a rich but often overlooked part of our history. Jessie Carney Smith, William and Camille Cosby Professor of the... Read More »

Black Heroes


"If there is no struggle, there is no progress," wrote Frederick Douglass. "This struggle may be a moral one; or it may be a physical one; or it may... Read More »
---