African American Hero of the Day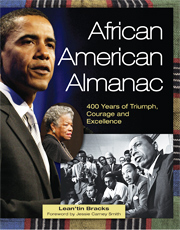 ---
Which author gained acclaim with her first novel, The Bluest Eye?
She worked as a senior editor at Random House.
She was elected to the American Institute of Arts and Letters in 1981.
Other well-known books she wrote include Sula and Tar Baby.
Her 1988 novel, Beloved, won a Pulitzer.
---
---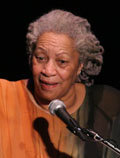 Toni Morrison (1931-)
Novelist, Editor
Born Chloe Ardelia Wofford in Lorain, Ohio, on February 18, 1931, Morrison received a B.A. from Howard University in 1953 and an M.A. from Cornell in 1955. After working as an instructor in English and the humanities at Texas Southern University and Howard University, Morrison eventually became a senior editor at Random House in New York City. She has been responsible for the publication of many books by blacks at Random House: Middleton Harris's The Black Book, which she edited, and books by Toni Cade Bambara and others. From 1971 to 1972, she was also an associate professor at the State University of New York at Purchase. From 1984 to 1989, Morrison served as Albert Schweitzer Professor of the Humanities at the State University of New York at Albany, after twenty years as a senior editor for Random House. Formerly married, she has two sons.
Morrison's first novel, The Bluest Eye, was published in 1969. Her second novel, Sula, was published in 1974 and won a 1975 Ohioana Book Award. Morrison's third novel, Song of Solomon (1977), was critically acclaimed and received the 1977 National Book Critics Circle Award and the 1978 American Academy and Institute of Arts and Letters Award. Her fourth novel, Tar Baby (1981), also received positive reviews. She was elected to the American Institute of Arts and Letters in 1981 and gave the keynote address at the American Writers' Congress in New York City in the fall of that year. She has also written the story for the musical Storyville, which is about jazz music originating in the brothels of New Orleans; the story for the musical New Orleans, a New York Public Theater workshop production; and also a screenplay of her novel Tar Baby.
Morrison's fifth novel, Beloved, was published in 1987. A historical novel, it received rave reviews. In 1988 Beloved won both the Pulitzer Prize for fiction and the Robert F. Kennedy Award. Beloved was a finalist for the 1988 National Book Critics Circle Award and was one of the three contenders for the Ritz Hemingway prize in Paris, from which no winner emerged, and a finalist for the National Book Award for 1987. In 1993 Morrison's novel Beloved was awarded the Nobel Prize for literature. She was the first black woman and the eighth woman to receive this award. Morrison in her writing uses the cultural traditions and experiences that have shaped her life and the life of African American people. She also continues to seek answers about "silences and secrets" that have left much unsaid about those same experiences.
In 1992 Morrison released the novel Jazz, followed by Paradise (1999), Love (2003), and A Mercy (2008). At Princeton University Morrison was named the Robert F. Goheen professor in the Council of Humanities, making her the first black woman writer to hold a named chair at an ivy-league university. Also among her numerous awards are the 1993 Commander of the Arts and Letters, Paris, the National Book Foundation's Medal of Distinguished Contribution to American Letters in 1996, the National Humanities Medal, 2000, and in 2008 she was nominated for a Grammy Award for the Best Spoken Word Album for children Who's Got Game?, The Ant or the Grasshopper?, The Lion or the Mouse?, Poppy or the Snake?"
From African American Almanac: 400 Years of Triumph, Courage and Excellence by Lean'tin Bracks, (c) 2012 Visible Ink Press(R). A wealth of milestones, inspiration, and challenges met . . .
Dig deeper with these related titles:
African American Almanac: 400 Years of Triumph, Courage and Excellence


A wealth of milestones, inspiration, and challenges met. . . The most complete and affordable single-volume reference of African... Read More »

Freedom Facts and Firsts: 400 Years of the African American Civil Rights Experience


Spanning nearly 400 years from the early abolitionists to the present, this guide book profiles more than 400 people, places, and events that have... Read More »

Black Firsts: 4,000 Ground-Breaking and Pioneering Events, 2nd Edition


Black Firsts is a testament to a rich but often overlooked part of our history. Jessie Carney Smith, William and Camille Cosby Professor of the... Read More »

Black Heroes


"If there is no struggle, there is no progress," wrote Frederick Douglass. "This struggle may be a moral one; or it may be a physical one; or it may... Read More »
---