African American Hero of the Day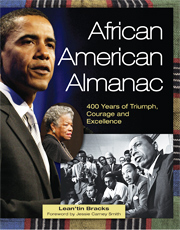 ---
What successful photographer became an author and composer, notably writing the score to the 1971 movie Shaft?
He became interested in photography while working for the Civilian Conservation Corps during the Great Depression.
He became renowned in the 1940s as a staff photographer for Life magazine, a career that eventually led him to Hollywood.
He is the author of The Learning Tree (1963), Born Black (1971), and Voices in the Mirror (1991), among other works.
Also the director of Shaft, he directed and wrote scores for Shaft's Big Score (1972), The Super Cops (1974), and Leadbelly (1976).
---
---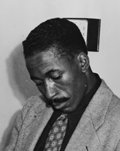 Gordon Parks (1912-2006)
Photographer, Composer, Writer, Director
Gordon Parks was born on November 30, 1912, in Fort Scott, Kansas. After the death of his mother, Parks went to St. Paul, Minnesota, to live with relatives. While there he attended Central High School and Mechanical Arts High School. Despite having fond childhood memories of his father on the family farm, Parks had a dysfunctional upbringing that lasted into young adulthood. Parks worked at a large variety of jobs including janitor, busboy, and semi-pro basketball player. Always interested in the arts, Parks also tried sculpting, writing, and touring with a band, but these artistic endeavors were largely without focus.
In 1933 Parks joined the Civilian Conservation Corps, and in the late 1930s, while working as a railroad porter, he became interested in photography as a medium in which he could finally focus his considerable artistic talents. After purchasing a used camera, Parks worked as a free-lance photographer and as a photo-journalist. In 1942 he became a correspondent for the Farm Security Administration, and from 1943 to 1945 he was a correspondent for the Office of War Information. After the war he worked for Standard Oil Company of New Jersey, and in 1948 he became a staff photographer for Life magazine. He soon achieved national acclaim for his photographs, and in the mid-1950s he began doing consulting work on Hollywood productions. In the 1960s Parks began doing television documentaries, and in 1966 he published his biography, A Choice of Weapons.
Parks is also the author of The Learning Tree (1963), Born Black (1971), Gordon Parks: Whispers of Intimate Things (1971), Moments without Proper Names (1975), To Smile in Autumn (1979), and Voices in the Mirror (1991). In 1968 Parks produced, directed, and wrote the script and music for the movie production of The Learning Tree. Parks also directed and scored the movies Shaft (1971), Shaft's Big Score (1972), The Super Cops (1974), and Leadbelly (1976).
Parks was the recipient of the NAACP's Spingarn Award (1972), the Rhode Island School of Design's Presidents Fellow Award (1984), and Kansan of the Year (1986); and in 1988 President Ronald Reagan presented him with the National Medal of Arts. In 1989 Parks received from the Library of Congress the National Film Registry's classic film honor for The Learning Tree; that same year he received the New York Mayor's Award. The Library of Congress acquired Parks's personal papers and archives on July 7, 1995. Parks died in 2006 of cancer.
From African American Almanac: 400 Years of Triumph, Courage and Excellence by Lean'tin Bracks, (c) 2012 Visible Ink Press(R). A wealth of milestones, inspiration, and challenges met . . .
Dig deeper with these related titles:
African American Almanac: 400 Years of Triumph, Courage and Excellence


A wealth of milestones, inspiration, and challenges met. . . The most complete and affordable single-volume reference of African... Read More »

Freedom Facts and Firsts: 400 Years of the African American Civil Rights Experience


Spanning nearly 400 years from the early abolitionists to the present, this guide book profiles more than 400 people, places, and events that have... Read More »

Black Firsts: 4,000 Ground-Breaking and Pioneering Events, 2nd Edition


Black Firsts is a testament to a rich but often overlooked part of our history. Jessie Carney Smith, William and Camille Cosby Professor of the... Read More »

Black Heroes


"If there is no struggle, there is no progress," wrote Frederick Douglass. "This struggle may be a moral one; or it may be a physical one; or it may... Read More »
---