African American Hero of the Day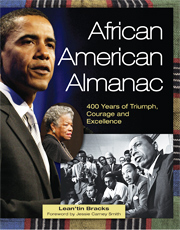 ---
What ragtime pianist also wrote a ballet and operas?
He studied classical music as a boy and young man, but turned to popular forms of music when he found work at bars and brothels.
Possibly his most famous song is "The Maple Leaf Rag."
He became enormously successful at the turn of the century for his ragtime compositions.
In 1976 he won a Pulitzer Prize.
---
---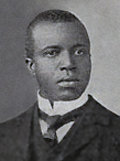 Scott Joplin (c.1867-1917)
Pianist, Composer
Scott Joplin was born about 1867 in eastern Texas, and he came from a musical family who encouraged him to study music. His father bought him a piano, and Joplin studied classical piano with a local German music teacher. When he left home, however, he could only find musical work in such venues as bars and brothels. In 1894 he settled in Sedalia, Missouri, to teach piano and study theory and composition at George R. Smith College for Negroes. In 1899 he published "The Maple Leaf Rag," which was enormously successful; his piano rags appealed greatly to the public and within a few years he had achieved financial success with his ragtime compositions. He was able to create works that provided royalties for life, but he also sought to expand his compositions.
Joplin composed larger works in the same style. He completed a ballet in 1899, and his first opera in 1908 (the score of which is now lost); he also wrote a second opera, Treemonisha. He was determined to produce this opera and see it performed, but had no luck. He personally financed the publication of the vocal score and produced a non-staged version of the opera for critics, but New York audiences were not ready for an opera about blacks by a black composer, and no one would give financial backing to a full production.
After the "Ragtime Renaissance" of the early 1970s Joplin's opera was given a world premiere at the Atlanta Memorial Arts Center in Georgia in 1972, and has been performed elsewhere many times, including a masterful performance by the Houston Grand Opera Company. In 1976 Joplin's work was also awarded a Pulitzer Prize for contributions to American music.
From African American Almanac: 400 Years of Triumph, Courage and Excellence by Lean'tin Bracks, (c) 2012 Visible Ink Press(R). A wealth of milestones, inspiration, and challenges met . . .
Dig deeper with these related titles:
African American Almanac: 400 Years of Triumph, Courage and Excellence


A wealth of milestones, inspiration, and challenges met. . . The most complete and affordable single-volume reference of African... Read More »

Freedom Facts and Firsts: 400 Years of the African American Civil Rights Experience


Spanning nearly 400 years from the early abolitionists to the present, this guide book profiles more than 400 people, places, and events that have... Read More »

Black Firsts: 4,000 Ground-Breaking and Pioneering Events, 2nd Edition


Black Firsts is a testament to a rich but often overlooked part of our history. Jessie Carney Smith, William and Camille Cosby Professor of the... Read More »

Black Heroes


"If there is no struggle, there is no progress," wrote Frederick Douglass. "This struggle may be a moral one; or it may be a physical one; or it may... Read More »
---