African American Hero of the Day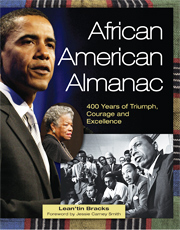 ---
Who was President George W. Bush's second secretary of state?
She is a gifted pianist.
She was an authority on the Soviet Union before that nation collapsed.
She taught at Stanford University for twelve years.
She was the first women and the first African American to hold the position of National Security Advisor.
---
---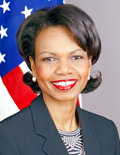 Condoleezza Rice (1954-)
U.S. Secretary of State, University Professor
Condoleezza Rice, a native of Birmingham, Alabama was born November 14, 1954. She earned a B.A. in political science in 1974 from the University of Denver and graduated Phi Beta Kappa and cum laude. Rice later earned her master's degree from the University of Notre Dame, and in 1981 a Ph.D. from the University of Denver's Graduate School of International Studies.
Rice served on the faculty of Stanford University from 1981 to 1993 before accepting the position of University Provost from 1993 to 1999. During this time Rice accepted the position of advisor to the Joint Chiefs of Staff on nuclear policy and was named in 1989 as director of Soviet and East European affairs on the National Security Council, which advised then President George H.W. Bush.
During the presidential campaign for George W. Bush, Rice left Stanford and served as Bush's advisor on foreign policy. After Bush was elected in November 2000, Rice was appointed as National Security Advisor. She was the first woman and the first African American to hold this position. In her position, to combat terrorism and threats to America both home and abroad, Rice became a key spokesperson during the attacks on September 11, 2001; she addressed the issue that Afghanistan was harboring Saudi exile, Osama bin Laden, the founder of Al Qaeda, who took responsibility of the 9/11 attacks; and she confronted the controversy of weapons of mass destruction by Iraqi leader Saddam Hussein. The United States invaded Iraq in 2003. In 2005 during Bush's second term Rice was appointed Secretary of State. She represented the United States regarding all areas of global concern and national interest.
With the election of Barack Obama as president in 2009, Rice planned to return to academe. She continues to serve on numerous boards and is the author of several books.
From African American Almanac: 400 Years of Triumph, Courage and Excellence by Lean'tin Bracks, (c) 2012 Visible Ink Press(R). A wealth of milestones, inspiration, and challenges met . . .
Dig deeper with these related titles:
African American Almanac: 400 Years of Triumph, Courage and Excellence


A wealth of milestones, inspiration, and challenges met. . . The most complete and affordable single-volume reference of African... Read More »

Freedom Facts and Firsts: 400 Years of the African American Civil Rights Experience


Spanning nearly 400 years from the early abolitionists to the present, this guide book profiles more than 400 people, places, and events that have... Read More »

Black Firsts: 4,000 Ground-Breaking and Pioneering Events, 2nd Edition


Black Firsts is a testament to a rich but often overlooked part of our history. Jessie Carney Smith, William and Camille Cosby Professor of the... Read More »

Black Heroes


"If there is no struggle, there is no progress," wrote Frederick Douglass. "This struggle may be a moral one; or it may be a physical one; or it may... Read More »
---