Real Monsters, Gruesome Critters, and Beasts from the Darkside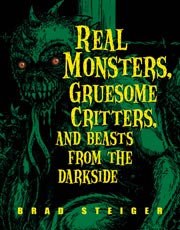 I don't think a list of best paranormal books for any year would be complete with a few titles from Brad Steiger. His work is always thorough, knowledgeable and engaging, and this book is no exception. It's a virtual encyclopedia of strange creatures. This is a must for every paranormal enthusiast's bookshelf.

about.com
Another creepy classic of encyclopedic proportions .... Brad's book will have you riveted to each page from beginning to end.

Alternate Perceptions
2012 YALSA Quick Picks for Reluctant Young Adult Readers Nomination

American Library Association
Best Cryptozoology Collections of the Year

cryptomundo.com
I've never been afraid of monsters until I read Brad Steiger's new book.

Examiner.com
Highly entertaining and a great book for anyone interested in the weird and the frightening.

Fate Magazine
One of Steiger's best books yet, REAL MONSTERS is full of the kind of stories that we have come to expect from him ? the kind you have to leave the light on just to get half-way through!

hauntedamericatours.com
Steiger's passion for his subject matter is evident throughout the book, which makes for a pleasurable tour through the shadow-filled underworld that so many of his beloved creatures inhabit. In addition to being a fun, well-written book, Steiger's volume [has] literally hundreds of unique monsters and beasts just waiting to be discovered.

horrornews.net
Steiger's writing is crisp, and the topics are captivating. This work is an entertaining read on intriguing and sometimes bizarre subject matter at a very affordable cost.

Library Journal
If you're new to the subject of unknown animals and are wondering what all the fuss is about, then Real Monsters, Gruesome Critters, and Beasts from the Darkside is a great place to begin your journey of adventure. If you're a seasoned and long-term devotee of the world of strange creatures, then you'll appreciate the care, time and fine writing that has gone into this latest publication from one of the world's leading experts on the paranormal.

mania.com
Does someone you know love to be scared? You won't find many things scarier than "Real Monsters, Gruesome Critters, and Beasts from the Darkside" by Brad Steiger. This comprehensive book by the Master of Monsters is filled with short, readable paragraphs about all sorts of things that go bump in the night. Be sure to wrap it up with a flashlight, for obvious reasons...

The Bookworm Sez
Just when I thought I knew everything about the paranormal, I pick up this book and learn a whole lot more. … If you want thrills, you will find it in Real Monsters by Brad Steiger! This book is scary as all heck!

unexplained-mysteries.com
Beware!
Monsters are Everywhere
Monsters have been spotted everywhere, not just slithering under a child's bed or lurking in the closet. From prehistoric creatures roaming the woods to fiends from outer space, Real Monsters, Gruesome Critters, and Beasts from the Darkside chronicles their wide variety of habitats, gruesome forms, and horrific deeds.
Including everything from encounters with bizarre freaks of nature to spine-tingling paranormal entities, each outlandish tale within this book is taken from newspaper accounts and first-person interviews. Real Monsters, Gruesome Critters, and Beasts from the Darkside brings you the scariest, most unbelievable yet true monster stories:
*UFO abductors seek to create human-alien hybrids
*Lake monsters, lizard men and creepy mermaids troll the waters for prey
*Dinosaurs terrorize the jungles
*Yeti and Bigfoot leave clues that they live in the mountains
*Big cats, black dogs, and giant snakes prowl neighborhoods
*The Mothman, a harbingering death, shocks all who meet it
This collection of over 250 of the most bloodcurdling and bone-chillingly fascinating and true monster stories is not recommended for reading just before bedtime. It will leave you constantly looking over your shoulder and wondering about the things that go bump and howl and screech in the night.

E-mail to a Friend
Quick Facts
ISBN: 9781578592203
PDF ISBN: 9781578593453
Kindle ISBN: 9781578593460
ePUB ISBN: 9781578593477
432 pages
100 illustrations
7.25" x 9.25" paperback
$39.95 ($21.95 Can.)
Metaphysical, Occult and Phenomena
Related Titles
You might also enjoy...
Also by Brad Steiger...
Author Websites
---
---