The Werewolf Book: The Encyclopedia of Shape-Shifting Beings, Second Edition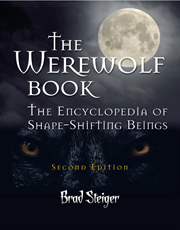 Another good spell-binding Brad Steiger classic! This book will be hard to put down once you get started.

Alternate Perceptions
The Werewolf Book is wonderfully thorough, exhaustively detailed, and affordable.

American Reference Books
Brad Steiger's magnum opus, a labor of deep scholarship elegantly written. As a reference source, it is invaluable for anyone interested in pursuing the werewolf.

Ancient American Magazine
Provides detailed information on a wide variety of mythical creatures and the culture surrounding them.

Book News
The book is written in Steiger's usual popular style, and ... it should be popular.

Booklist Online
From A to Z, Brad Steiger presents a true encyclopedia of werewolfism, a reference masterpiece, overflowing with fascinating information to make readers think and shudder.

Fate Magazine
a very professional encyclopedia from one of the field's masters, covering all things shapeshiftery and not just "men who are hairy on the inside"

Fortean Times
… a fascinating collection of articles …

Magonia Review of Books
If werewolves, hairy shape-shifting monsters, and silver-bullets are your thing, then you're in for a big, big treat! An excellent, fully updated, and massively expanded, edition of The Werewolf Book: The Encyclopedia of Shape-Shifting Beings is most definitely a title to sink your teeth into!

Mania.com
It is with reverence to its awesome scope that we recommend it to anyone even marginally interested in the topic.

Rue Morgue Magazine
Another classic for the ages, Steiger continues to educate and entertain. I eagerly await his next book to come.

The Examiner
There are historical as well as pop culture entries in this encyclopedia, and I think that's what makes this book so different. Most people do not sit down and read an encyclopedia from cover to cover, but with this book, the reader can do exactly that and not feel overwhelmed with information. [T]his encyclopedia will appeal to more than just the average werewolf/vampire lover.

VOYA
When Darkness Reigns and the Full Moon Glows, Terror Emerges to Stalk the Unsuspecting…
From lycanthropic creatures found on television and film such as
Teen Wolf
,
Twilight
, and
True Blood
to the earliest folklore of shape-shifting creatures,
The Werewolf Book: The Encyclopedia of Shapeshifting Beings
is an eye-opening, blood-pounding tour through the ages of monsters with the most amazing camouflage capabilities—they hide among us! Along the way, you'll land at the doorstep of creatures like hirsute mass-murderer Albert Fish, and Fritz Haarman, who slaughtered and ate his victims—selling the leftovers as steaks and roasts in his butcher shop—as well as visits to mythical shamans, sirens, and skin walkers.
Covering 140,000 years of legend, mythology, and fact,
The Werewolf Book
provides hair-raising evidence of strange and obsessional behavior through the centuries. Learn the basics of becoming a werewolf and the intricacies of slaying the beast. A true homage to werewolves and other beasts, it includes a full moon of topics such as …
• Bear, tiger, coyote, and other shape-shifting people
• Classic and modern werewolf movies
• Gargoyles, totem poles, and Internet depictions
• Serial killers and sadistic rulers
• Sorcery, spells, and talismans
• Television shows, songs, and computer games

E-mail to a Friend
Quick Facts
ISBN: 9781578593675
PDF ISBN: 9781578593781
Kindle ISBN: 9781578593774
ePUB ISBN: 9781578593767
384 pages
7.125 x 9.25 paperback
$39.95 ($21.95 Can.)
Folklore, Metaphysical and Mythology
Related Titles
You might also enjoy...
Also by Brad Steiger...
Author Websites
---
---