Black Firsts: 4,000 Ground-Breaking and Pioneering Events, Third Edition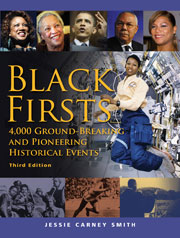 The book itself is an achievement. [I]t is a treasure trove of information about black history and surely an inspiration.

Book Views by Alan Caruba
Black Firsts remains an important part of the reference collection, and school, public and academic libraries will welcome this updated version.

Booklist
The third edition of this invaluable resource of African American achievements updates the previous edition. Recommended for anyone from elementary-school age to adults who are interested in African American history.

Booklist
In the new book "Black Firsts" by Jessie Carney Smith, you'll find information on tens of thousands of folks who've gone before you – in a good way.

In your lifetime, you've seen a lot of big milestones: the first Olympic gold-winning African American gymnast; the first black head of National Security and, of course, Barack Obama as the first black U.S. President.

Bookworm Sez
"Black Firsts" is a book full of hope.

Chicago Sun-Times
A superb historical study of black achievement.

Houston Chronicle
The well-researched sketches provide a great deal of information. This is an excellent resource for starting research on black history, but its sheer volume may be overwhelming to casual researchers. The lesser-known figures, however, make the title worth digging into.

Library Journal
An exhaustive listing of the accomplishments of black Americans in the arts, business, education, the military, medicine and science, and sports.

Pittsburgh Tribune-Review
This authoritative work, with its brief biographies of many accomplished and famous African-Americans, is one that writers, researchers, and libraries will want to keep close at hand for its valuable information.

Richmond Times-Dispatch
This is a must-have reference.

St. Paul Pioneer Press
...comprehensively catalogs the achievements of everybody from Hank Aaron to Bruce Yuille...

Syracuse Post-Standard
An excellent reference source, but, more than most such encyclopedia collections, it also can be read.

The Salt Lake Tribune
Achievement engenders pride, and the most significant accomplishments involving people, places, and events in black history are gathered in Black Firsts: 4,000 Ground-Breaking and Pioneering Events.
Barack Obama, Colin Powell, and Pinkney Benton Stewart Pinchback each achieved a political first. Jackie Robinson, Tiger Woods, and Lloyd David Ward each achieved a sports first. Black Firsts is a testimony to the rich but often overlooked history of black life in America—and throughout the world.
This new edition collects and celebrates the thousands of world-moving people and hard-to-find facts and accomplishments that have helped shape society and culture. It recognizes and honors both renowned and lesser-known barrier-breaking trailblazers in all fields—arts, entertainment, business, civil rights, education, government, invention, journalism, religion, science, sports, music, and more. With more than 350 photos and illustrations, this vital collection includes thousands of personal victories and triumphs. Revel and rejoice in the hard work accomplished by these men and women who overcame adversity and difficulties. Read about change, progress, and the pioneers, such as ...
Who was the black explorer who joined the Lewis and Clark expedition?
Who was the black hero who sacrificed himself at the Boston Massacre, an event that would help inspire the American Revolution?
Which two songs by Black Americans are the first to reach outer space?
Who were the Tuskegee Airmen and why are they so famous?
Why was Hattie McDaniel's performance in Gone with the Wind significant?
Who was the author of a book of poetry that won the first Pulitzer Prize awarded to a black American?
What famous inventor and agronomist has a national monument named after him in Diamond, Missouri?
What movie featured the first black female lead in a Disney animated feature?
Who was the first black American athlete to win gold in the Olympics gymnastics all-around competition?
Who was the first black American depicted on a postage stamp?

E-mail to a Friend
Quick Facts
ISBN: 9781578593699
PDF ISBN: 9781578594245
Kindle ISBN: 9781578594269
ePUB ISBN: 9781578594252
848 pages
400 photos and illustrations
7.125" x 9.25" paperback
$34.95
Related Titles
You might also enjoy...
Also by Jessie Carney Smith, Ph.D....
---
---