The Horror Show Guide: The Ultimate Frightfest of Movies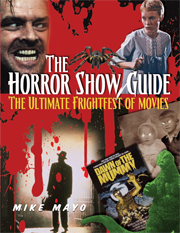 A must-have for horror film junkies.

Entertainment Weekly
One of the 20 best horror guides of all time.

HorrorHound magazine
"The Horror Show Guide" is just what the doctor ordered offering 100′s of films for readers to browse over to find the perfect range of titles for an evening of terror. Mike Mayo has a great writing style that makes the entries fun to read and suitable for hardcore fans.

horrornews.net
If it's a scary movie, it's likely to be listed in this book, making it a reference guide that movie buffs simply should NOT be without.

Maumelle Monitor
Give the book as a gift to a horror fan or keep it for yourself. Mayo's exhaustive research and knowledge shines through as does his sense of entertainment and love of the genre. Enjoy!

ValerieTalksBooks.com
The Horror!
The Frights! The Diabolic Fiends!
Atomic bombs, mad serial killers, zealous zombies, maniacal monsters lurking around every corner, and the unleashing of technology, rapidly changing and dominating our lives. Slasher and splatter films. Italian giallo and Japanese city-stomping monster flicks. Psychological horrors, spoofs, and nature running amuck. You will find these terrors and many more in The Horror Show Guide: The Ultimate Frightfest of Movies.
Covering the genre monstrously well, you will find reviews of over 1,000 of the best, weirdest, wickedest, wackiest, and most entertaining scary movies from every age of horror. Highlighting each era's particular fear and paranoia, no gravestone is left unturned to bring entertaining critiques of the silent killers of the '20s, Dracula and Frankenstein of the '30s; superbugs and atomic monsters of the '50s, the Nightmare on Elm Street and Halloween films of the '80s, the serial murders of the '90s, the vampires, werewolves, and zombies of today, and more.
No gravestone is left unturned to bring you entertaining critiques, fascinating top-ten lists, numerous photos, and extensive credit information to satisfy even the most die-hard fans. Written by a fan for fans, The Horror Show Guide helps lead even the uninitiated to unexpected treasures of unease and mayhem with lists of similar motifs, including Urban Horrors; Nasty Bugs, Mad Scientists and Maniacal Medicos; Evil Dolls; Bad Hair Days; Big Bad Werewolves; Most Appetizing Cannibals; Classic Ghost Stories; Fiendish Families; Guilty Pleasures; Literary Adaptations; Horrible Highways and Byways; Post-Apocalyptic Horrors; Most Regrettable Remakes; Towns with a Secret; and much more.

E-mail to a Friend
Quick Facts
ISBN: 9781578594207
PDF ISBN: 9781578594597
Kindle ISBN: 9781578594610
ePUB ISBN: 9781578594603
496 pages
120 photos and illustrations
$42.95
Film/Entertainment
Related Titles
You might also enjoy...
Also by Mike Mayo...
Author Websites
---
---