Real Encounters, Different Dimensions and Otherworldy Beings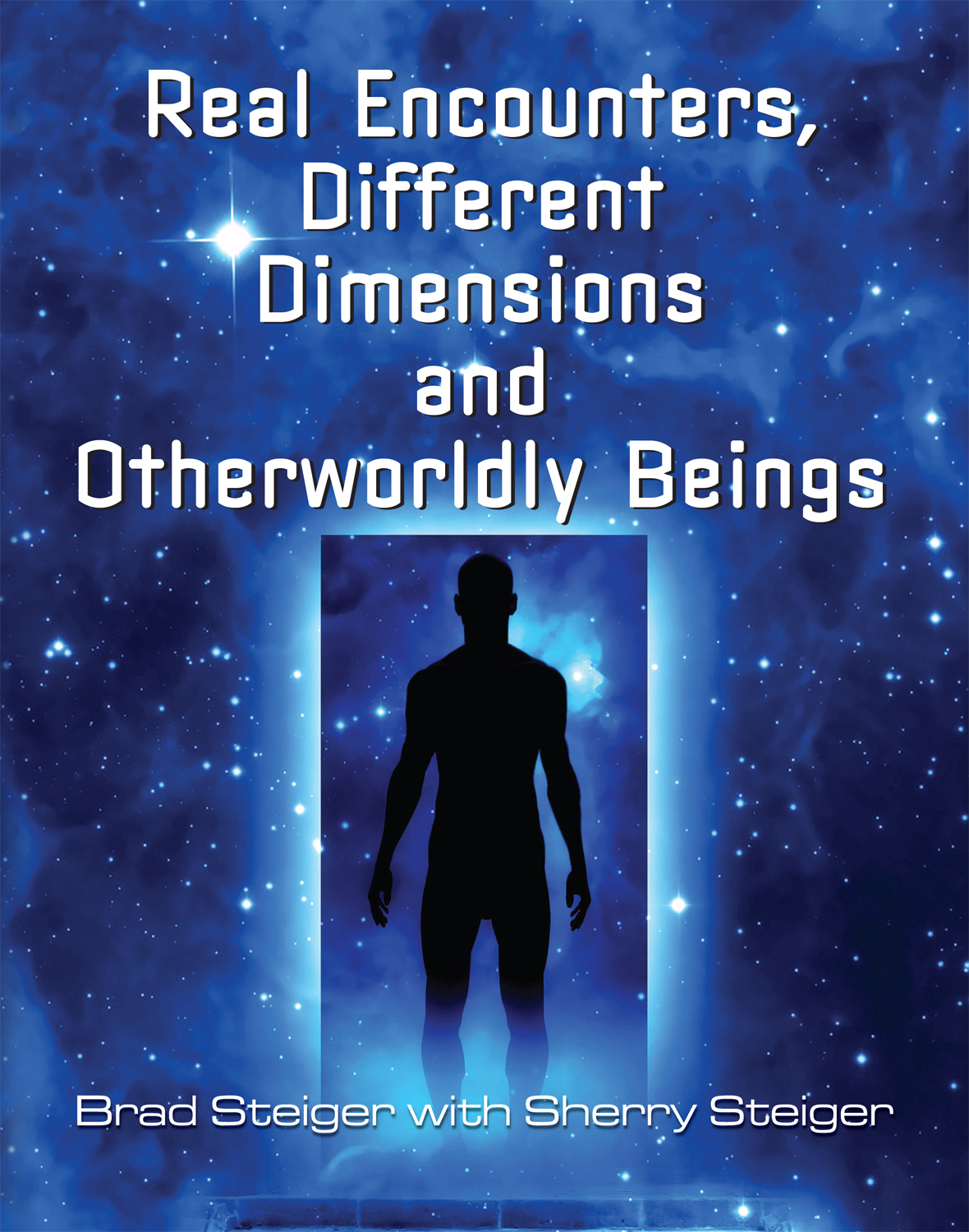 The Steigers add another terrific volume to their extensive list of paranormal books. ... Open to any page in this book and you'll find something fascinating or terrifying. It belongs on your bookshelf.

About.com
If you would like a much deeper and richer introduction into this twilight realm between the known worlds of establishment science and religion, the Steiger's have certainly prepared an excellent assemblage of thought-provoking material for all of us to ponder and reflect upon much further. ... another comprehensive, thought-provoking masterpiece

Alternate Perceptions
I am completely amazed on how many people love UFO lore, but are so misguided with the facts. I am so glad that there are researchers out there like Sherry and Brad ... This book transcends ignorance and misinformation ... Another standing ovation for the Steigers!

beforeitsnews.com
These two veteran researchers of a wide variety of paranormal experiences once more produce an encyclopædic volume, this time thematically on anomalous experiences of other 'worlds' and 'entities', from the expected aliens and fairies to demons, totem animals, angels, spirits, poltergeists, disembodied voices and the sense of divine presence. A good fortean read.

Fortean Times
Real Encounters covers a lot of ground. If it falls under the labels of UFOs, Weird History, the Supernatural, Spiritualism, Conspiracy, you'll find it here. It's a no holds barred look at the unexplainable with people who do a good job of explaining it. This is one of the rare books that has something to offer both the reader new to the topic as well as a life long follower. Definitely worth a read, and this may be the book everyone wants to borrow. You have been warned.

HorrorTalk.com
This is a book that skillfully demonstrates the world we see around us does not amount to all that there is to see. There are domains and dimensions that are inhabited by supernatural intelligences that we do not fully understand, and forces and forms to be reckoned with. Real Encounters, Different Dimensions, and Otherworldly Beings opens those doors and unleashes those forces and forms upon us – and then some!

Mysterious Universe .org
Chancing the Unexplained
From mysterious strangers and unpredictable beings to weird behavior and paranormal phenomena, Real Encounters, Different Dimensions, and Otherworldy Beings explores a wide range of supernatural encounters. It reaches and crosses the realm ghosts and phantoms and poltergeists, angels, spirit guides and teachers, astral, extraterrestrial and otherworldly beings, strange animals, monsters and terrors, disembodied life forces and energies beyond comprehension.
Venturing into the Supernatural
With its disquieting testimonials, enlightening news articles, informative historical accounts and documents, Real Encounters, Different Dimensions, and Otherworldy Beings chronicles the lives transformed and expanded through encounters with the unexplained. Compelling evidence of the existence of otherworldly entities will entertain, induce chills, and make the doubtful believe. Who wouldn't be effected by invisible beings and secret societies, physical energies activated by the psyche, out-of-body travelers, unidentified terrestrial life-forms such as orbs, or visitors from other dimensional frequencies and levels?
Journey through the Unknown
Take a tour through strange and supernatural worlds, uncovering startling convergences, connections, and confrontations. Meetings with life forces, whether malevolent or benign, leave their mark in unusual ways and through mysterious means. Lives are forever changed. Real Encounters, Different Dimensions, and Otherworldy Beings brings you 180-stories of unnerving, never-forgotten brushes with the unknown and the aftermath. Tales that will warm your hearts—and serve up chills.

E-mail to a Friend
Quick Facts
ISBN: 9781578594559
PDF ISBN: 9781578594726
Kindle ISBN: 9781578594740
ePUB ISBN: 9781578594733
400 pages
120 photos and illustrations
7.125" x 9.25" paperback
$44.95
Related Titles
You might also enjoy...
Also by Brad Steiger...
Also by Sherry Hansen Steiger...
Author Websites
---
---