Real Visitors, Voices from Beyond, and Parallel Dimensions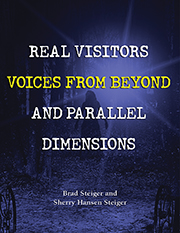 ... Brad and Sherry Steiger once again bedazzle us ... a mind-boggling range of unexplained occurrences and manifestations ...

Alternate Perceptions
... a paranormal bible ... There are so many great stories and information, I don't know where to begin. ... get the real paranormal truth ...

BeforeItsNews.com
Is there someone on your gift list who loves nothing more than to be scared? … Definitely wrap it up with Real Visitors, Voices from Beyond, and Parallel Dimensions by Brad Steiger and Sherry Hansen Steiger. Ooooooh, then shiver!

Bookworm Sez
...worthwhile … the Steigers excel at interviewing researchers or practitioners of culture-specific magic and lore ...

Fortean Times
… Decades of diligent research and professional writing have rewarded … Real Visitors, Voices from Beyond, and Parallel Dimensions is an enjoyable read that entertains and enlightens. This book easily deserves my highest recommendation.

Robert Gorman (Founder, Nonhuman Research Agency)
Apparitions.
Out-of-body journeys. Ghosts. Angels. Spirits. Unidentified terrestrial life forms. Bumps in the night. Encounters with the unknown. Strange energies beyond comprehension. Startling convergences and connections that confound.
Are we alone or do "other" phenomena, entities, and intelligent life forces inhabit the universe? Chronicling centuries of legends, historic stories, and cases from the modern world of unexplained visitors and extra-dimensional encounters, Real Visitors, Voices from Beyond, and Parallel Dimensions examines the existence of otherworldly entities, powers, and beings.
Paranormal researchers and storytellers extraordinaire Brad and Sherry Steiger build on their decades of research in the paranormal, mystical, and supernatural to analyze the influences and theories behind these mysterious visitors, beings, and otherworldly entities and energies. Packed with more than 200 thought-provoking stories, meetings with life forces, and lives are forever changed, Real Visitors, Voices from Beyond, and Parallel Dimensions explores the Watchers, Demons, Shamans, Mediums, Spirit Guides, Dreams, Visions, Human–Alien Hybrids, and many more mysterious presences that make you wonder about the riddles of our existence—and just who might already be among us....

E-mail to a Friend
Quick Facts
ISBN: 9781578595419
PDF ISBN: 9781578596010
Kindle ISBN: 9781578596034
ePUB ISBN: 9781578596027
448 pages
120 photos and drawings
7.125 x 9.25 paperback
$46.95
Related Titles
You might also enjoy...
Also by Brad Steiger...
Also by Sherry Hansen Steiger...
Author Websites
---
---