Real Miracles, Divine Intervention, and Feats of Incredible Survival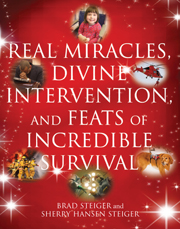 Any book by Brad Steiger or from the team of Sherry and Brad is well worth reading. It's a treasure trove of real miracles that will delight every heart and send your spirit soaring. Proof that the impossible is still possible and that prayers are still answered.

Dr. P.M.H. Atwater
This fun-to-read book is filled with amazing stories that are surprisingly inspirational, and also would be a good book for anyone who believes in angels.

savannahnow.com
If you,ve ever doubted miracles can happen, reading this book will change your life.

SUN magazine
Lightning strikes, lotteries, and Lourdes--miracles really do happen

Including more than 200 true, thought-provoking stories, this inspirational collection provides a fascinating glimpse into the world of unexplained phenomena and survival against overwhelming odds. A wide range of topics and circumstances is covered, including angelic interventions, surviving airplane crashes and cataclysmic natural disasters, medical miracles, amazing sea rescues, miracles on the highway, and near-death experiences. Remarkable stories include how a sky diver plummeted more than 4,000 feet and walked away with only a cut, how a mother and her children ride out a tornado atop an airborne mattress and survive, and how a group of dolphins rescued a swimmer from a shark attack.

E-mail to a Friend
Quick Facts
ISBN: 9781578592142
PDF ISBN: 9781578592517
Kindle ISBN: 9781578592708
ePUB ISBN: 9781578592746
320 pages
100 photos and illustrations
7.25 x 9.25 paperback
$29.95 ($0.00 Can.)
Metaphysical
Related Titles
You might also enjoy...
Also by Brad Steiger...
Also by Sherry Hansen Steiger...
Author Websites
---
---