The Government UFO Files: The Conspiracy of Cover-Up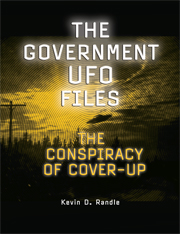 Everything you wanted to know about the dirty little secrets our government hides from us is right here in this incredible book.

BeforeItsNews.com
deliver(s) content that might have otherwise been kept classified and far from public review. … proof [on what] the FBI, CIA, NASA, FAA and Military have been doing …. Conspirators will gain some much needed insight.

Horrornews.net
Author Kevin Randle offers an interesting analysis. A retired Army Lieutenant Colonel, he has a unique take on the documents, operations, and intelligence that form the bulk of the evidence on the sightings or incidents. If you like this type of book, this is still going to be worth reading. Between the vintage photos and educated analysis, it's going to provide you a few nights of reading pleasure. If you've never read a book like this before, this will make a nice 'primer' to the whole UFO Conspiracy underground.

HorrorTalk.com
Everything you wanted to know about the dirty little secrets our government hides from us is right here in this incredible book. If you are a UFO enthusiast, this is a must-read book and it should be placed with your UFO reading collection!

Jazma Online
The files of the CIA, the FBI, the FAA, NASA, the Army, Navy, Air Force, and other U.S.
government agencies all have documents relating to UFOs, UFO investigations, and UFO activities that have affected their operations.
The Government UFO Files: The Conspiracy of Cover-Up
looks at the suppressed evidence, the hidden plots, misleading statements, and documented connections to government intrigue. Is the government being deliberately misleading, or have the conspiracy theories gotten out of control? And, what are we to make of the government's decades-late acknowledgment of Area 51? This book takes a hard look at the files and uncovers evidence long hidden from the public to untangle the truth.
Hundreds of historical documents are examined. Countless in-person interviews are conducted. Every lead is painstakingly followed to sometimes shocking conclusions. Foo Fighters, Silver Disks, Ghost Rockets, Mountain Crashes, Fireballs, the Men in Black, and nearly 100 sightings and occurrences are thoroughly investigated. The research sorts through the information, sources, and files to help develop a fuller picture of government activities.

E-mail to a Friend
Quick Facts
ISBN: 9781578594771
PDF ISBN: 9781578594986
Kindle ISBN: 9781578595150
ePUB ISBN: 9781578595143
368 pages
110 photos and illustrations
7.125 x 9.25 paperback
$19.95 ($21.99 Can.)
Related Titles
You might also enjoy...
Also by Kevin D Randle...
---
---