The Illuminati: The Secret Society That Hijacked the World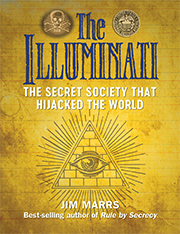 … delves deeply into the convoluted history, details, connections, influences, symbols, and present day workings associated with this controversial and shadowy society of ancient origins. … painstakingly tackles the many hidden layers of information and disinformation in a determined attempt to uncover, untangle, and expose the concealed truths buried within the complex and very confusing historical background of what is simply called the Illuminati.

Alternative Perceptions Magazine
[Check out] "The Illuminati: The Secret Society that Hijacked the World" by Jim Marrs for more big secrets.

Bookworm Sez
... the truth of the Illuminati is revealed. ... Jim Marrs, being the analytical sleuth that he is, puts all of the puzzle pieces together ...

JazmaOnline
… entries on the history and background on the Illuminati, its purported influence on government and finance, Illuminati symbolism still found today, and representations of the Illuminati in popular culture. …

Protoview Book News
Shining a Light on a Shadowy Society

Secret Schemes.
Concealed Connections. Pernicious Power. Intimate Initiations. Big banks and market manipulations. Possible links to the Rockefellers, Rothschilds, Adamses, and Bushes.
New York Times
best-selling author Jim Marrs explores the history and exposes the workings, influences, and continuing power of the Illuminati upon world governments.
A disturbing but revealing read, The Illuminati: The Secret Society that Hijacked the World takes a deep dive into this cabal's origins, exposing the hidden hands that have influenced history, dredging up its murky doings, and warning of its insidious power. Examining the evidence, the historical record, the known—and concealed—connections, and consulting experts—from those who dismiss the Illuminati as a short-lived group of little consequence to skeptics who dare question the government's accounts and pronouncements—Marrs cuts through the wild speculation and the attempts to silence critical thinkers to tell the true story of this secret society.
Wealth, power, and intrigue come together in this exhaustive exposé. Learn about the group's origin as the Ancient and Illuminated Seers of Bavaria, the depiction on the back of the U.S. one-dollar bill of Illuminati symbols such as the all-seeing eye and pyramid, and the Protocols—or procedures—for usurping national governments and gaining world domination, as well as the Illuminati symbolism found in today's international corporate logos, pop culture, and more.

E-mail to a Friend
Quick Facts
ISBN: 9781578596195
PDF ISBN: 9781578596485
Kindle ISBN: 9781578596508
ePUB ISBN: 9781578596492
416 pages
120 photos and illustrations
7-1/8 x 9-1/4 paperback
$19.95
Political Science
Related Titles
You might also enjoy...
Author Websites
---
---