The Handy Christianity Answer Book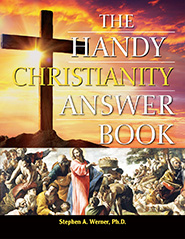 … an ideal ready reference … will interest young adults, general readers, Christians curious to learn more, and those who are spiritual but not religious and would like to explore the basics and some of the mysteries of the religion.

Library Journal
… answers questions about Christianity and its beliefs, practices, and the influence, in relation to the definition of Christianity; Jesus, Christian beliefs about him, and his teachings; key people in the Gospels; the basic beliefs of mainstream Christians; the Bible; Christian history; celebrations and rituals; morality; the Catholic Church; and Christian art, architecture, music, and movies.

Protoview Book News
… written both for Christians who want a deeper understanding of their own tradition and for non-Christians and nonbelievers who want to understand the influence of … Christianity

SirReadALot.org
Christianity is the world's biggest religion, with two billion followers covering nearly one third of the world's population.
It has a profound impact on the modern world, but what does it mean to be a Christian? What is the core of the faith? How did Christianity start, spread, and grow? How did Christianity influence art, architecture, music, and movies? Answering these and nearly 900 additional questions on Christian history, practices, cultural perspectives, a sprinkling of fun facts, and so much more,
The Handy Christianity Answer Book
takes an accessible, enlightening and informative look at one of the world's most important religions. Among the questions answered are:
What does it mean to follow the gospel? What are the last words spoken by Jesus? Did Jesus have brothers? What are the differences—and similarities—between Roman Catholicism, Eastern Orthodoxy, and Protestantism? What is the Devil? What were the Crusades? What are the requirements to get to Heaven? Who was Joan of Arc? Why is Martin Luther so important? Why was the artist Michelangelo important to Christians? Why do most churches have organs? What is the Salvation Army?
The teachings of Jesus, the people in his life, the important events in his life, the Bible, Christian celebrations and ceremonies, Angels and Demons, the earliest history through to the present, Christian art, music, and movies are all covered. Delving into the richness of Christian traditions, this convenient primer illuminates the meaning, development, and history of symbols, rituals, observations, customs, worship, sacraments, and prayer. It looks at important leaders and the organization of the religion. It clearly and eloquently explains how different Christians think as well as the historical schisms and divisions among different denominations.
Illustrating the rich tradition and enormous influence of one of the world's great religions, The Handy Christianity Answer Book is perfect for browsing, a convenient place to go to look up basic facts, and an ideal resource for anyone interested in gaining a better understanding of Christianity. This informative book also includes a helpful bibliography, timeline of important events, and an extensive index, adding to its usefulness.

E-mail to a Friend
Quick Facts
ISBN: 9781578596867
eBook ISBN: 9781578596935
416 pages
140 photos and illustrations
7-1/8 x 9-1/4 paperback
$29.95
Related Titles
You might also enjoy...
Also by Stephen A Werner, Ph.D....
---
---